Disney sure knows how to make you love the Disney Princesses, but don't forget about their amazing significant others. In this post I'll give you the Disney Princes list so you know who all of them are too.
There are official Disney Princes and Unofficial Disney Princes. There's some debate about who belongs on which list and I'll let you know why when we get to each of them on this Disney Princes list.
Some of them are the leads in their movies and others are just in a relationship with the lead aka a princess.
Most of them are good guys, but there are a few on the unofficial list who are villains in Disney movies!
Some Disney princes are born into royalty and others marry into it by marrying a Disney Princess. They are all from Disney princess movies and the Disney princess franchise.
You're going to love learning about each of them on this Disney Princes list and how they qualify as a Disney prince.
Official Disney Princes List
Let's dive right into the Disney Princes list! I'm going to tell you a little about them, what movie they're in, who their Disney Princess is, and some fun facts!
The Prince aka Prince Florian From Snow White And The Seven Dwarfs
Credit: Photo by depositphotos.com
The prince is from the Disney movie Snow White And The Seven Dwarfs (1937). If you've been wondering the Snow White prince name, he is also known as Prince Florian or Prince Ferdinand. The Prince's Disney princess is Snow White.
He was the first ever Disney Prince, so it only makes sense to put him first on this Disney Princes list.
In the movie he is just known as The Prince and his name is never said.
He is a dark haired, blue eyed man who is on the search to find his true love.
He hears Snow White singing the song "I'm Wishing" and starts to sing with her. This scares her, so she runs off into her castle. Then he sings under her balcony. The song he sings is called "One Song".
He falls in love with Snow White and is determined to save her with a true love's kiss.
Related Content: What Are All The Disney Princess Names?
Snow White Movie Summary
This movie is about a young girl, Snow White. Her stepmother wants to have her killed for being the fairest of them all, so she runs off into the woods.
She meets seven dwarfs and seeks shelter with them, but eventually the Queen finds her and gives her a poisoned apple.
The poison apple puts her into a sleep where she can only be woken up with a true love's kiss. The Prince kisses her and wakes her up. Then they ride off into the sunset together and live happily ever after!
Fun Facts About The Prince
The Prince is the very first Disney prince.
He was one of the hardest characters in the movie to animate, so he is not in the movie a ton. He is singing in the beginning of the movie, then we don't see him again till he saves Snow White at the end.
In the movie he is 18 years old, although he was rumored to be 31 years old.
This movie is Walt Disney Company's first full length feature film.
Prince Charming From Cinderella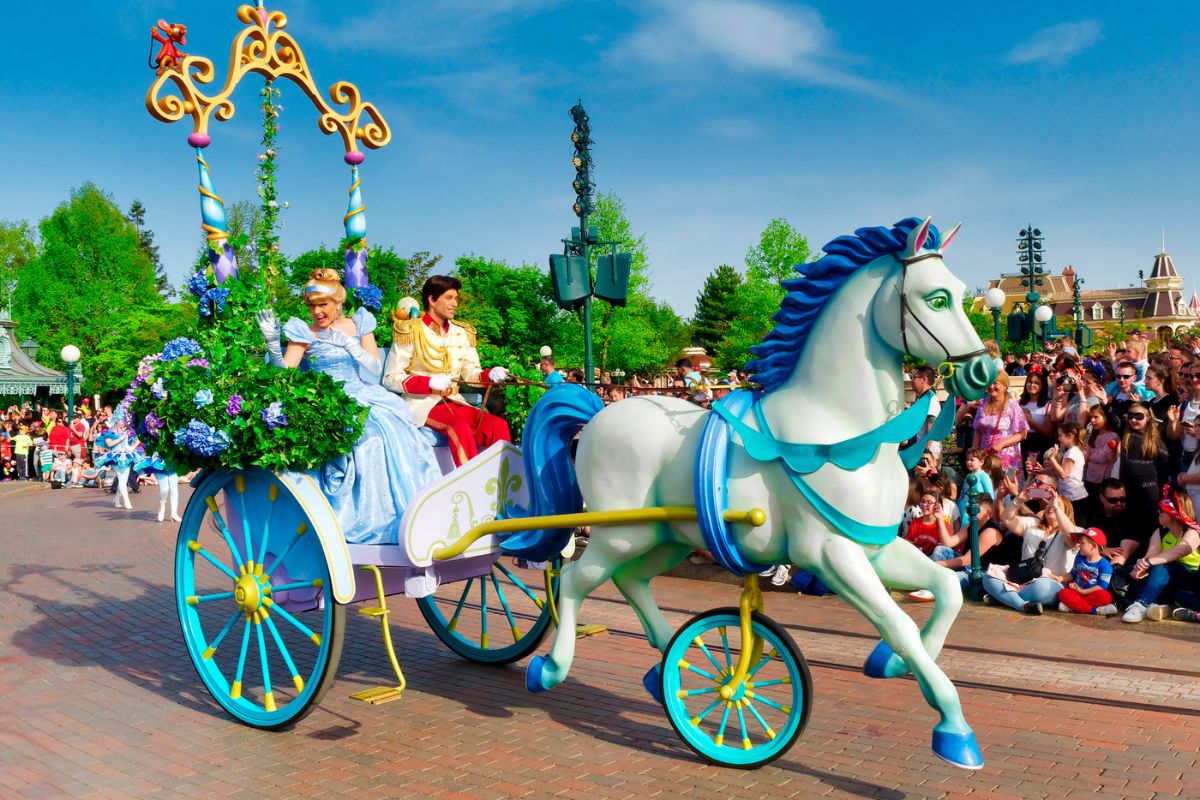 Credit: Photo by depositphotos.com
Prince Charming is in the movie Cinderella (1950). Prince Charming's princess is Cinderella.
Prince Charming's real name is actually Prince Henry. He is quite handsome and charming, as his name suggests. Possibly the most handsome one on this Disney Princes list.
He is very dedicated and relentless when it comes to finding Cinderella.
He has brown hair and brown eyes. He wears a white jacket with gold on it, red pants, a gold belt, and black shoes.
Prince Charming does not have a ton of screen time in the first Cinderella movie, but he is seen more in Cinderella II: Dreams Come True.
Related Content: What Are The Disney World Hotels For Adults?
Cinderella Movie Summary
Cinderella's father died, so she lives with her evil stepmother, Lady Tremaine, and her 2 step sisters, Anastasia and Drizella.
The King, Prince Charming's father, hosts a royal ball for Prince Charming to find a woman. Prince Charming isn't too thrilled about it, but decides to go.
Cinderella's Fairy Godmother helps her get ready for the ball. Prince Charming almost instantly falls in love with Cinderella when he sees her at the ball and they dance the night away.
Cinderella has to run away at midnight though since the magic spell is ending, and she accidentally leaves behind her glass slipper.
Prince Charming is left with her glass slipper and is determined to find her using it. They search the kingdom far and wide and finally find Cinderella when her foot fits into the slipper perfectly.
They get married and live happily ever after.
Fun Facts About Prince Charming
He is great at dancing, horse riding, and even sword fighting.
The carrousel in Magic Kingdom in Walt Disney World is named after him. The official name is Prince Charming Regal Carrousel and it is located in Fantasyland.
Two different people voice him for speaking and singing.
Prince Philip From Sleeping Beauty
Credit: Photo by depositphotos.com
Sleeping Beauty (1959) is the movie that Prince Philip is from. Prince Philip's princess is Sleeping Beauty, whose other names are Aurora and Briar Rose. Her Disney princess name is usually Sleeping Beauty.
You first see him in the movie as a child at Aurora's birthday party when she was a baby. He was betrothed to Aurora.
He has brown hair, brown eyes, and a slender build. Prince Philip is loyal, brave, and likeable.
He is born into royalty as his parents are King Hubert and Queen Ingrith. His horse's name is Samson.
Sleeping Beauty Movie Summary
Maleficent, an evil witch, curses Aurora to die on her 16th birthday by pricking her finger on a spindle. To protect her, she goes to live in the forest with her three fairy guardians Flora, Fauna, and Merryweather.
Aurora and Philip meet in the forest. They love each other and feel like they've met before, but of course don't remember each other from when they were babies/kids.
They sing the best and most memorable song from this movie, which is "Once Upon A Dream".
Aurora ends up pricking her finger and instead of dying, she is put into a deep sleep that she can only come out of with a true love's kiss from her bethrothed, Prince Philip.
To prevent that from happening, Maleficent takes Philip and imprisons him in a dungeon. He is rescued from the fairies though.
Maleficent turns herself into a dragon and Prince Philip kills her with The Sword Of Truth and The Shield Of Virtue. He then kisses Aurora and wakes her from her sleep, then they live happily ever after.
Fun Facts About Prince Philip
It is rumored that Prince Philip was named after Prince Philip The Duke of Edinburgh, Queen Elizabeth II's son.
He is older than Aurora as he is a child at her birthday party and is not a baby like her.
He appears in his movie more than any other prince had when Sleeping Beauty came out.
Prince Eric From The Little Mermaid
Prince Eric is in the movie The Little Mermaid (1989). This is my favorite Disney princess movie. Prince Eric's princess is Ariel.
He is from a seaside kingdom and is a sailor and an amazing swimmer. His kingdom is very eager for him to get married.
Prince Eric is romantic, adventurous, and charming.
He is muscular and has black hair and light blue eyes. He wears a white shirt, red belt, blue pants, and black boots.
He can usually be seen with his dog Max.
The Little Mermaid Movie Summary
The Little Mermaid is about a mermaid named Ariel who has always wanted to be a human.
She saves Prince Eric from a shipwreck, sings to him, and falls in love with him. Prince Eric can't stop thinking about her voice and wondering who she was.
Ariel wants to be with him, so she makes a deal with Ursula, the sea witch, to give her her voice in exchange for legs for 3 days.
Ariel makes it to land as a human and is reunited with Prince Eric. She doesn't have her voice anymore, so she can't prove to him that she was the one who saved him, which makes him question if Ariel is the one.
Ursula comes to land and tries to mess things up for the couple, but Scuttle, Flounder, and Sebastian are able to help them and Ariel gets her voice back.
Everything works out for Ariel and Prince Eric. They get married and live happily ever after.
Fun Facts About Prince Eric
In the movie, Eric is 18 years old and Ariel is 16 years old.
Christopher Daniel Barnes was 16 when he did the voicing of Eric.
He is the first one to speak in the movie. There is singing before this, but no speaking.
Prince Eric is born into royalty and also marries into royalty since Ariel's dad is a king, King Triton.
Beast From Beauty And The Beast
Credit: Photo by depositphotos.com
Beast is also known as Prince Adam. He is in the movie Beauty And The Beast (1991). Beast's princess is Belle.
When he is 11 years old he is cursed by an enchantress after he won't give her shelter. She turns him into a beast and he only has 10 years to find someone that he loves who also loves him to break the spell. They also must kiss before the last petal of a rose falls off.
He is arrogant, selfish, aggressive, and not a nice guy. As the movie goes on he becomes kind and caring and does not hate his appearance as much as before.
Beauty And The Beast Movie Summary
Belle's dad, Maurice, goes to Beast's castle in need of shelter after losing his horse, but Beast imprisons him instead. Belle comes to save her father and Beast allows her to take his place in the castle.
Beast and Belle grow on each other as the movie goes on and Beast even gives her a library.
Gaston and the people from town come to save Belle. Beast and Gaston get into a big fight and Gaston ends up falling to his death. Belle tells Beast that she loves him and the spell is broken.
The servants in the castle turn back to being human instead of dishes and clocks. The Beast turns back into human as well and becomes the Handsome Prince Adam.
Prince Adam has long auburn hair. We don't see him in human form for much of the movie though.
Fun Facts About Beast
Prince Adam is born into royalty.
Beast is a main character in the movie, just like Belle. A lot of other princes have smaller roles.
There were many different drawings of the Beast done before they decided what he would look like.
We don't know anything about Beast's family.
Aladdin From Aladdin
Credit: Photo by depositphotos.com
Aladdin is from the movie Aladdin (1992). Aladdin's princess is Jasmine. He is my favorite on the Disney Princes list!
He is a poor street rat in Agrabah who has a pet monkey named Abu.
Aladdin is clever, sneaky, brave, kind, handsome, and loving. He is very giving and in the movie we see him giving fruit to poor kids.
He has brown eyes and black flowy hair. He is often seen wearing a purple vest, red hat, and loose white pants. He dresses much better as Prince Ali though!
Aladdin Movie Summary
Aladdin and Jasmine first meet at the market and are caught stealing fruit. Jasmine is safe, but Aladdin gets imprisoned.
Jafar frees him by telling him he must go to the Cave Of Wonders to get him the magic lamp. Aladdin ends up the with magic lamp and a genie grants him three wishes.
He wants to be a prince to win over Jasmine, so Genie transforms him into Prince Ali. Jasmine isn't too impressed by him until they go on a magic carpet ride and sing A Whole New World.
Jasmine isn't happy when she finds out that Aladdin has been lying to her though. Jafar throws Aladdin into the ocean to prevent them from marrying.
The genie rescues Aladdin, then Jafar's bird Iago helps Jafar become in charge of the magic lamp. Aladdin tricks Jafar into wishing to be all powerful, so he becomes a genie and gets stuck in the lamp with his bird.
Aladdin uses his 3rd wish to free the Genie. Jasmine realizes that she loves Aladdin and her father, the Sultan, approves. They get married and of course live happily ever after!
This is one of my favorite movies on the Disney Princes list!
Fun Facts About Aladdin
We don't know anything about Aladdin's family.
The feather from Aladdin's turban covers his face when he lies.
Aladdin was originally going to have 3 friends in the film, but that didn't end up happening.
He was not born into royalty. He becomes a prince by marriage.
Prince Naveen From The Princess And The Frog
Credit: Photo by depositphotos.com
Prince Naveen is in The Princess And The Frog (2009). Prince Naveen's princess is Tiana. He is the prince of Maldonia.
Tiana finds him annoying, then they hangout more when they're frogs and fall in love.
In the beginning of the movie he is spoiled, lazy, and has an attitude. As the movie goes on he becomes kind, funny, and caring though.
His parents are king and queen. He has a younger brother, Prince Ralphie.
He has black hair, brown eyes, and a great smile.
The Princess And The Frog Movie Summary
Prince Naveen's parents cut him off financially, so he has his sights set on a rich woman, Charlotte La Bouff, who is Tiana's best friend. He gets mixed up with Dr. Facilier and makes a bad deal with him which turns him into a frog. He must kiss a princess to become human again.
He thinks that Tiana is a princess, so they kiss in hopes of him becoming human again. But when they kiss Tiana becomes a frog too!
They fall in love and Naveen realizes that love is more important than money. They get married and when they kiss, they both turn back to being human. This is because Tiana became a princess when they got married, so he kissed a princess!
They live happily and own Tiana's restaurant together.
Fun Facts About Prince Naveen
He is the first prince of the 21st century.
He is not human for most of the movie.
He is of royal heritage.
He was originally going to be British.
Related Content: 74 Best Princess And The Frog Quotes
Flynn Rider From Tangled
Flynn Rider's movie is Tangled (2010). Flynn Rider's princess is Rapunzel. His real name is Eugene Fitzherbert.
He was an orphan who became a thief.
Flynn Rider is one of the most popular princes on this Disney princes list.
He has long brown hair. He is very charming, good looking, and adventurous.
Tangled Movie Summary
Flynn Rider steals a crown and goes to the woods. He seeks shelter in Rapunzel's tower, but she knocks him out with a frying pan.
Rapunzel is being held in this tower by Mother Gothel who is using her hair to stay youthful.
Rapunzel convinces Flynn Rider to take her to see the floating lanterns at the Kingdom aka The Festival Of Lights, which she doesn't know are for her yet. The deal is that she will give him back his satchel after that.
He's not so keen on Rapunzel, but deals with her to get his satchel back. He softens up and starts to fall in love throughout the movie though.
They go through a lot together, but eventually Flynn cuts Rapunzel's hair so no one can use her for it and to set her free from Mother Gothel.
Rapunzel is able to heal Flynn Rider with a magic tear, and they end up together and in love.
Fun Facts About Flynn Rider
He becomes royalty by marrying a princess.
He doesn't know his birthday, but is rumored to be 26 years old.
He was named Horace at birth, then his name was changed to Eugene Fitzherbert. He is embarrassed of that name and changes it to Flynn Rider.
John Smith From Pocahontas
John Smith is from Pocahontas (1995). His princess is Pocahontas.
He is not actually royalty, but his love interest Pocahontas is an official Disney princess, so that makes him a prince in our books and we'll keep him on this Disney Princes list.
He is English and has long blonde hair. He is an adventurer and explorer.
Pocahontas Movie Summary
John Smith meets Pocahontas while scouting in Jamestown, Virginia. They talk, but she runs away when she hears loud drums.
They see each other again a few days later and John says he is looking for gold. Pocahontas says there is no gold there and John tells Governor Ratcliffe.
He informs John that he is to kill any Indians or he will be hung for treason.
Their people are both preparing to go to war with each other.
Pocahontas tells everyone she loves John Smith and it convinces everyone to not fight each other. John takes a bullet Powhaton and is injured.
He must go back to England to recover and get the care he needs. We do not see John Smith and Pocahontas together after this.
Fun Facts About John Smith
He is the only Disney prince who is based on a real person.
Mel Gibson did the singing and speaking voice of John Smith.
Li Shang From Mulan
Li Shang is in the movie Mulan (1998). His princess is Mulan. Li Shang is not royalty, but since he is with Mulan who is one of the official Disney princesses, that makes him an official Disney prince.
He is a Chinese Army captain and his father is an Army general.
He is Chinese, tall, muscular, and strong. He wears traditional armor.
He is very serious, commanding, and means business.
Mulan Movie Summary
Mulan is worried that her father will be drafted into the military, so she disguises herself as a man (named Ping) and goes to training.
Li Shang is in charge of her group who are not the best soldier material. Mulan ends up falling in love with him.
Mulan is not taken seriously in the military because they see her as weak. She gets injured in battle against the Huns and they discover that she is a woman.
Death is the punishment that Mulan should have gotten, but Li Shang saves her because she saved him in the avalanche.
The Army moves to Imperial City, but Mulan shows up to tell them that the Huns Army is still alive.
She helps them defeat the Huns, which makes her a hero. She then returns back to her village with a sword and a medal. Li Shang goes to her home and has dinner with her family.
Fun Facts About Li Shang
He uses techniques that are really used in Army training.
He is very skilled in Bojutsu.
Mulan and Li Shang get married in Mulan II.
His speaking and singing voices are done by 2 different people.
Unofficial Disney Princes List
The following men are not official princes, but they still deserve to be on this Disney Princes list.
Simba – Simba is from The Lion King. He's not a human, but his father is king, which makes him a prince. He does end up becoming king himself though!
Scar – Scar is also from The Lion King. He is a Disney villain. He is a prince by birth. He kills his brother Mufasa and blames Simba so that he can become King of the pride lands.
Hercules – He is from the 1997 film Hercules about Greek mythology.
Tarzan – He is from the 1999 movie Tarzan. He is not a prince because his love interest, Jane, is not part of the Disney princess line.
Kristoff – Kristoff is from Frozen and Frozen II. He becomes royalty when he marries Queen Anna. Anna is on the unofficial Disney princess list.
Hans – His official title is Prince Hans of the Southern Isles. He is 13th in line for the throne. He is a villain and is not on the list of official Disney princes.
Taran – Taran is from the movie The Black Cauldron.
Milo Thatch – Milo is from the movie Atlantis. He is a prince, then becomes king.
Robin Hood – From the m 1973 movie Robin Hood.
Kovu – Kovu is in The Lion King II: Simba's Pride. He is the love interest of Simba's daughter, Kiara.
Other Disney Men
These Disney men are not princes or even unofficial princes. They are heroes and deserve some recognition though!
Mickey Mouse
Donald Duck
Peter Pan
Bambi
Pinocchio
Mowgli
Quasimodo
Woody
Kuzco
Arthur Pendragon (The Sword in the Stone)
Are your favorite prince and princess a couple? My favorite prince is Aladdin and my favorite Disney princess is Ariel from The Little Mermaid!
Pin this image to save this Disney Princes list for later!