Disclosure: Some of the links below are affiliate links. At no cost to you, I will earn a commission if you click through and make a purchase. 
Disney outfits are so fun to wear in Disneyland and Walt Disney World. If you know you want to dress like Elsa, but need some outfit inspiration, then you're going to love these Elsa Disneybound outfit ideas.
Elsa is from the movies Frozen and Frozen 2. She is an unofficial Disney princess as she is technically Queen Elsa of Arendelle and is not one of the Disney princesses. She passes this title on to her sister Anna at the end of Frozen 2 though.
Even though she's not an official queen anymore, she'll always be the ice queen to us! Elsa is one of my favorite Disney characters and she wears amazing outfits.
You cannot dress up in an Elsa costume when visiting a Disney theme park, so Disneybounding is the best option if you're wanting to dress up as a certain character.
When you're Disneybounding you don't buy a costume. You put together outfit pieces that will help you look like the character you're Disney bounding as. This is mainly done by wearing the colors that a character typically wears.
You'll see lots of pretty blues in these Elsa inspired outfits! Bonus – after you Disneybound Elsa you can reuse some of these blue cloth dresses to Disneybound as Cinderella.
1. Elsa Disneybound Dress
This outfit has a blue long sleeve button dress, a snowflake belt, snowflake earrings, and a blue headband.
Since she's wearing a long sleeve dress, this outfit is best for winter. You can always swap it for a short sleeve dress to wear during the other season though.
Shop this look:
Related Content: 5 Cute Cinderella Disneybound Outfit Ideas You'll Love
2. Elsa Outfit For Winter
This Elsa outfit is so cute for winter and Christmas in the parks! She is wearing a light blue long sleeve dress with fuzzy white boots, a white belt with a bow, and silver Mickey ears with snowflakes.
Her baby is Olaf Disneybounding and it is just the cutest!
Shop this look:
3. Elsa Inspired Outfit With A White Dress
This classic Elsa outfit is a white dress that looks very similar to the one that Elsa wears in Frozen 2.
If you don't have blonde hair and are feeling it, you can always add a blonde wig.
Shop this look:
Related Content: 8 Disney Summer Outfits To Wear On Repeat
4. Simple Elsa Outfit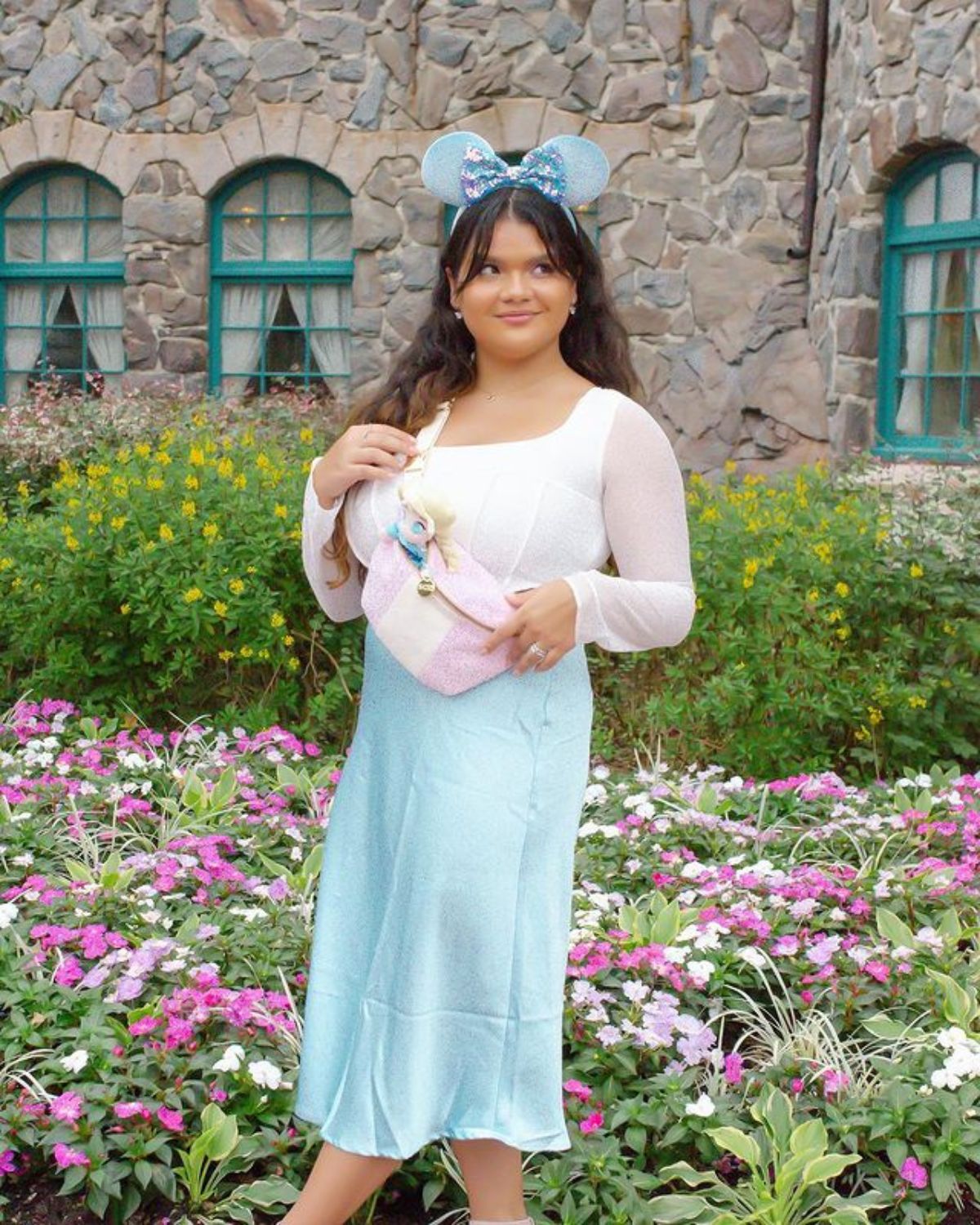 This Elsa outfit idea is simple and cute. She is wearing a white long sleeve shirt, a light blue skirt, light blue Minnie Mouse ears, and a sparkly fanny pack.
Shop this look:
5. Elsa, Anna, and Olaf Disneybound
This is the perfect Disneybounding idea for three people! This trio has Anna, Olaf, and Elsa. Isn't this Anna and Elsa Disneybound too cute?
Elsa is wearing a light blue off the shoulder dress with a blue belt and blue shoes. Elsa's braid really completes the look if your hair is long enough!
Shop this look:
6. Frozen Disneybound Outfit
This Elsa outfit inspo is more on the casual side. It consists of a light blue lantern sleeve dress, sparkly silver sneakers, a blue Elsa Loungefly backpack, snowflake earrings, and a snowflake necklace.
Shop this outfit:
7. Elsa Frozen 2 Disneybound
This Elsa Disneybound is so perfect for Frozen II. The dress is very similar to the dress and cape that Elsa wears in the movie. The outfit also has white Mickey ears with a purple bow, a blue sparkly Elsa Loungefly backpack, snowflake earrings, and blue boots.
Shop this outfit:
Disneybound FAQ
Is Disneybounding allowed?
Yes, people of all ages can Disneybound in Disney parks. Ages 13 and up are not allowed to wear costumes in the parks, so Disneybounding is a great option if there is a character you're wanting to dress up as.
Why can't adults dress up in Disney?
There's a great reason for why adults cannot dress up as characters in Disney parks. This is because it would ruin the magic of seeing the Disney characters for children. If someone is dressed up as Elsa and Disney has an Elsa walking around, then it would be very confusing. There can only be one of each character in the park at a time.
Which of these Elsa Disneybounding outfits is your favorite?
Pin this picture so you can find this post later!
As an Amazon Associate I earn from qualifying purchases.