Disneyland is fun for so many reasons including the rides, the parades, meeting characters, and of course the amazing snacks! This post will tell you what all of the best Disneyland snacks are.
I'll be covering ones that are in the Disneyland Park and Disney California Adventure Park since both of those are part of the Disneyland Resort.
It's so much fun to grab a snack while walking down Main Street or when you're in between rides. In my opinion, the Mickey shaped snacks are the best Disneyland food because they're delicious and cute!
This post won't be covering the snacks at Walt Disney World, although some of these snacks are also available there.
In this post I'll tell you what the best Disneyland snacks are and where to find them.
Best Disneyland Snack #1 – Mickey Pretzel
The Mickey pretzel is my all time favorite snack in Disneyland! I love it so much. It's so insanely cute how it's shaped like Mickey. It's super tasty, soft, and salty. Also, they're vegan!
It's big enough that you can share it with someone else or you can be like me and eat the whole thing yourself.
There are pretzel carts throughout Disneyland and one in California Adventure that you can get these at. You can also get them at Refreshment Corner on Main Street.
See a full list of pretzel cart locations here.
2. Dole Whip
Dole whips are another favorite of mine! They are so refreshing on a hot day, but to be honest, I'll eat these no matter what the weather is like. There are different flavors and I've never tried one I didn't love.
The classic flavor is the pineapple Dole Whip. It's basically a pineapple soft serve ice cream. This snack is also vegan.
You can get them at the Tiki Juice Bar in Adventureland, The Tropical Hideaway in Adventureland, and Adorable Snowman Frosted Treats in California Adventure.
Depending on where you go to get yours you can get pineapple, watermelon, mango, and lemon. You can also get 2 flavors swirled together. My favorite flavor is watermelon!
You can also get Dole whip floats where it has pineapple juice in the bottom and pineapple soft serve on top.
Related Content: How Many Disney Parks Are There?
3. Churro
Churros are a classic Disneyland treat and a classic theme park snack! They're made from fried dough covered in cinnamon sugar.
There are tons of churro carts in both parks. You can see the list of locations here. Senor Buzz Churros in California Adventure has a Cinnamon Super Galaxy Churro which has Buzz Lightyear colored sugar sprinkles on it to make it extra fun.
4. Mickey Ice Cream Bars
Mickey Ice Cream Bars are chocolate covered ice cream on a stick. These are easy to grab and eat while you walk around.
There are ice cream carts around both parks that carry these.
Related Content: Ultimate List of Vegan Food At Disneyland
5. Mickey Macarons
Mickey shaped macarons are one of the prettiest Disney treats out there! The official name is Raspberry Rose Mickey Macaron. It has raspberry rose almond filling and fresh raspberries in it.
You can get them at Jolly Holiday Bakery Cafe on Main Street. They also have a Matterhorn Macaroon, a Mickey Shaped Sugar Cookie, and lots of other fun sweet treats.
Disney parks really know how to make cute treats!
6. Corn Dog
There are a few places to get corn dogs in Disneyland. My husband thinks the best ones are from Little Red Wagon at the end of Main Street.
They have hand-dipped corn dogs served with apple slices or chips.
Related Content: Where Can You Get Coffee In Disneyland?
7. Pixar Pier Frosty Parfait
This treat is from Adorable Snowman Frosted Treats in California Adventure on Pixar Pier. It's a non-dairy lemon soft serve with blue raspberry swirl and a cherry on top.
8. Ice Cream Cone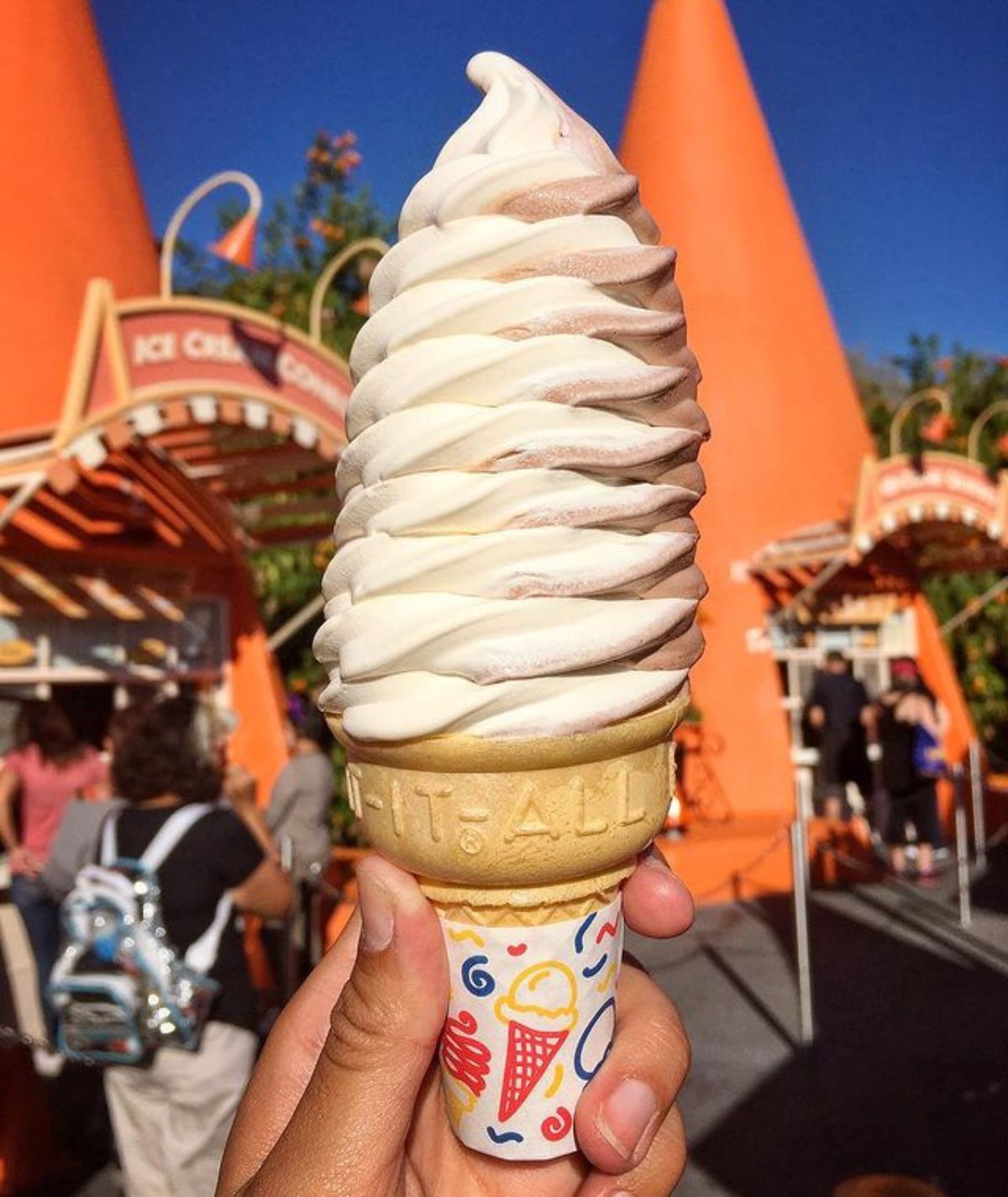 There are a lot of places to get ice cream cones in Disneyland and California Adventure.
The Cozy Cone Motel has soft serve ice cream at Cozy Cone 2. You can get chocolate, vanilla, or swirl.
Hand scooped cones are available at Gibson Girl Ice Cream Parlor on Main Street, Clarabelle's Hand Scooped Ice Cream in California Adventure, and Ghirardelli Soda Fountain And Chocolate Shop in California Adventure.
9. Jack-Jack Cookie Num Num
The Jack Jack Cookie Num Num is a big, warm chocolate chip cookie named after Jack-Jack from The Incredibles. These chocolate chip cookies are big and gooey. They have large chocolate chunks in them.
These are served at a cookie cart called Jack-Jack Cookie Num Nums near the exit of the Incredicoaster on Pixar Pier. They also serve other cookies and different kinds of milk.
10. Popcorn
Popcorn is another classic Disney snack. It's super buttery, salty, and delicious.
There are tons of popcorn carts around the parks where you can get it. See a list of locations here.
11. Cream Cheese Filled Pretzel
This is exactly what it sounds like- a warm pretzel that is filled with cream cheese. My husband can't get enough of these and loves snacking on them when we're in the parks.
You can get them at the Refreshment Corner on Main Street or at the Pretzel carts around the parks.
12. Frozen Lemonade
These are like a lemonade slushy. You can get a flavor shot in them, like cherry or raspberry. They are super refreshing and tasty.
These are available at various Lemonade Carts in Disneyland and California Adventure.
13. Mickey Beignets
Mickey Shaped Beignets are topped with powdered sugar. You can get them in a 3 pack or 6 pack. Sometimes there are seasonal flavors too, like banana.
These are sold at Mint Julep Bar in New Orleans Square.
Pin this image so you can find this post later!