Disclosure: Some of the links below are affiliate links. At no cost to you, I will earn a commission if you click through and make a purchase. 
If you're a fan of The Nightmare Before Christmas, then you're going to love these Jack Skellington Disneybound outift ideas!
Jack Skellington is the main character in The Nightmare Before Christmas, which is a Halloween movie and a Christmas movie that is very popular.
Jack wears a black and white pin striped suit with a bow tie. He is the Pumpkin King of Halloween Town.
These Disney Nightmare Before Christmas outfits are super cute to wear to Disneyland and Walt Disney World.
You can wear them anytime of year, but they're especially fun to wear during Halloween and Christmas time.
1. Jack Skellington Disneybound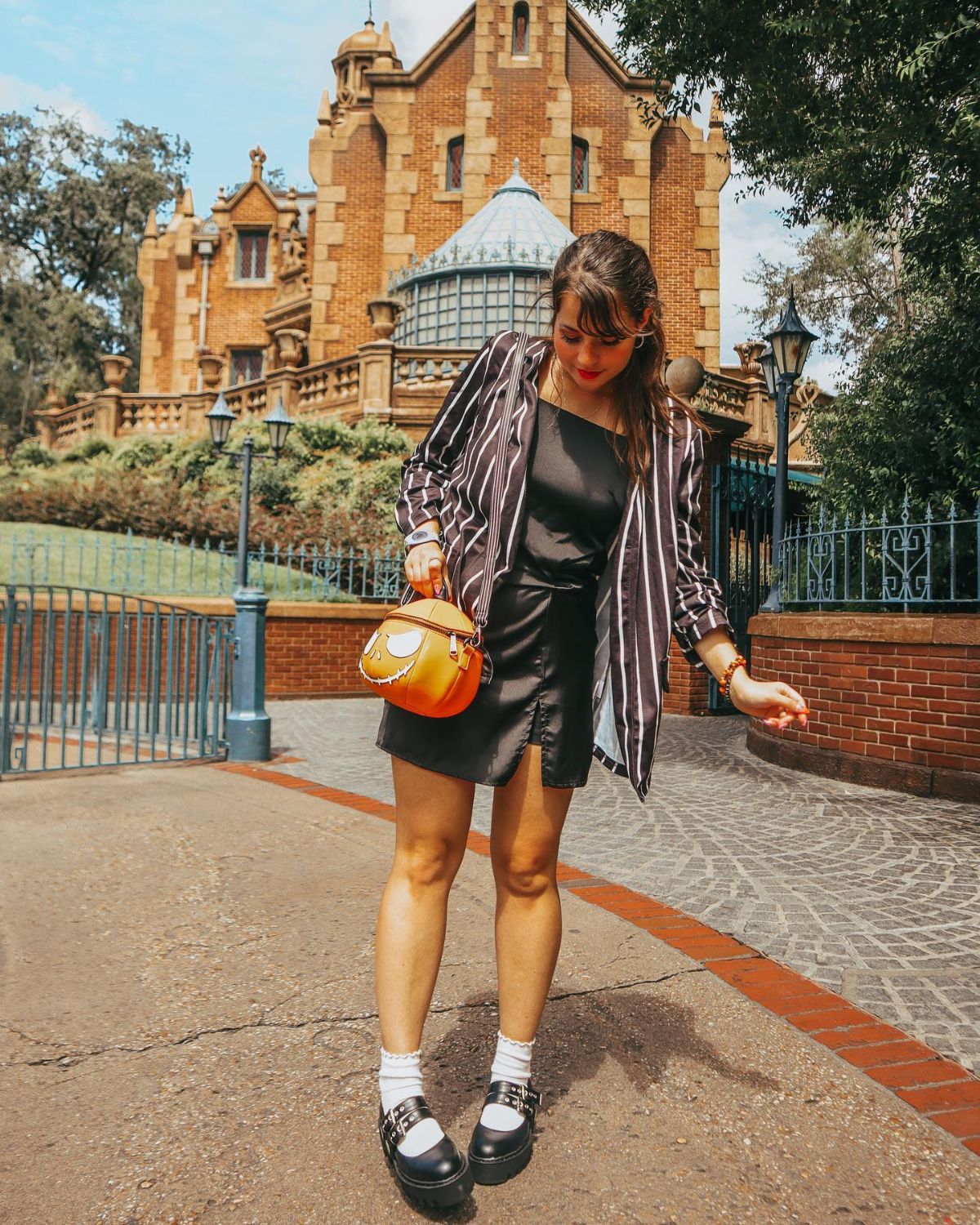 I love this more subtle take on a Jack Skellington outfit.
She is wearing a black dress with a black and white striped shirt over it, black Mary Jane shoes, white ruffle socks, a pumpkin purse with Jack's face on it.
Shop this look:
Related Content: 5 Sally Disneybound Outfits To Copy This Christmasween
2. Jack Skellington Outfit With A Dress
This is a fancier way to bound as Jack. She is wearing a black and white striped dress, a black corset belt, black fishnet tights, and black booties.
She's holding a Jack Skellington plush so no one has a hard time knowing who she's Disneybounding as, but I don't think they will.
Shop this look:
3. Nightmare Before Christmas Disneybound
This Nightmare Before Christmas Disneybound is more on the casual and comfortable side.
She is wearing Mickey ears that have Oogie Boogie and Jack Skellington on them, a white crop top, a black pin striped bow tie, black pin striped pants, and black sneakers.
This is a great outfit for running around Disneyland or Disney World and going on lots of rides.
Shop this look:
4. Disney Halloween Outfit
I think this is a good Disney Halloween outfit for a night at the parks when it's a little colder. You won't want to do your face makeup like this for a normal day at the parks, but you can for when you wear a costume to Oogie Boogie Bash or Mickey's Not So Scary Halloween Party.
She is wearing a white tee with Jack Skellington's face on it, Nightmare Before Christmas ears, a black leather jacket, a black bow tie, a black and white striped skirt, black tights, and black and white shoes.
You could wear this outfit during the day without the jacket, then put it on in the evening when it gets chilly outside.
Shop this look:
5. Casual Jack Skellington Outfit
This outfit is great for a hotter day in a Disney park.
She is wearing Nightmare Before Christmas Minnie ears, a black top, black pin striped pants, black lace up boots, and a Mickey pumpkin purse.
These shoes might work for a quick park visit, but aren't very practical if you're staying all day. You can swap them out for boots with no heels or sneakers.
Shop this look:
6. Nightmare Before Christmas Outfit
This spooky outfit is a black and white striped dress, black tights, black heels, and a Sally backpack.
Shop this look:
Conclusion
I hope you loved some of these Jack Skellington Nightmare Before Christmas inspired outfits! Tag us on Instagram if you wear any of them at @thatdisneyfam_.
Pin this image so you can find this post later!
As an Amazon Associate I earn from qualifying purchases.