Disclosure: Some of the links below are affiliate links. At no cost to you, I will earn a commission if you click through and make a purchase. 
One of the most popular Disneybounds you'll see is Ariel Disneybound outfits!
Ariel is the beautiful mermaid from The Little Mermaid movie. She has red hair, wears a purple shell bra, and has a green tail. She does wear some other outfits in the movie too.
Disneybounding is where you dress up like a Disney character, but don't wear a costume.
Ariel outfits are great for wearing to any Disney park, but especially California Adventure at the Disneyland Resort and Magic Kingdom in Walt Disney World.
California Adventure has the ride The Little Mermaid ~Ariel's Undersea Adventure and Magic Kingdom has Under The Sea – Journey Of The Little Mermaid.
These are also really fun outfits to wear on Disney Cruise Line ships since you'll be out at sea, just like our favorite mermaid Ariel.
Ariel is my favorite Disney Princess! So these outfits are some of my favorite Disneybounds I've ever seen.
Read this post to get inspired and get tips for your next Disney vacation!
1. Ariel Disneybound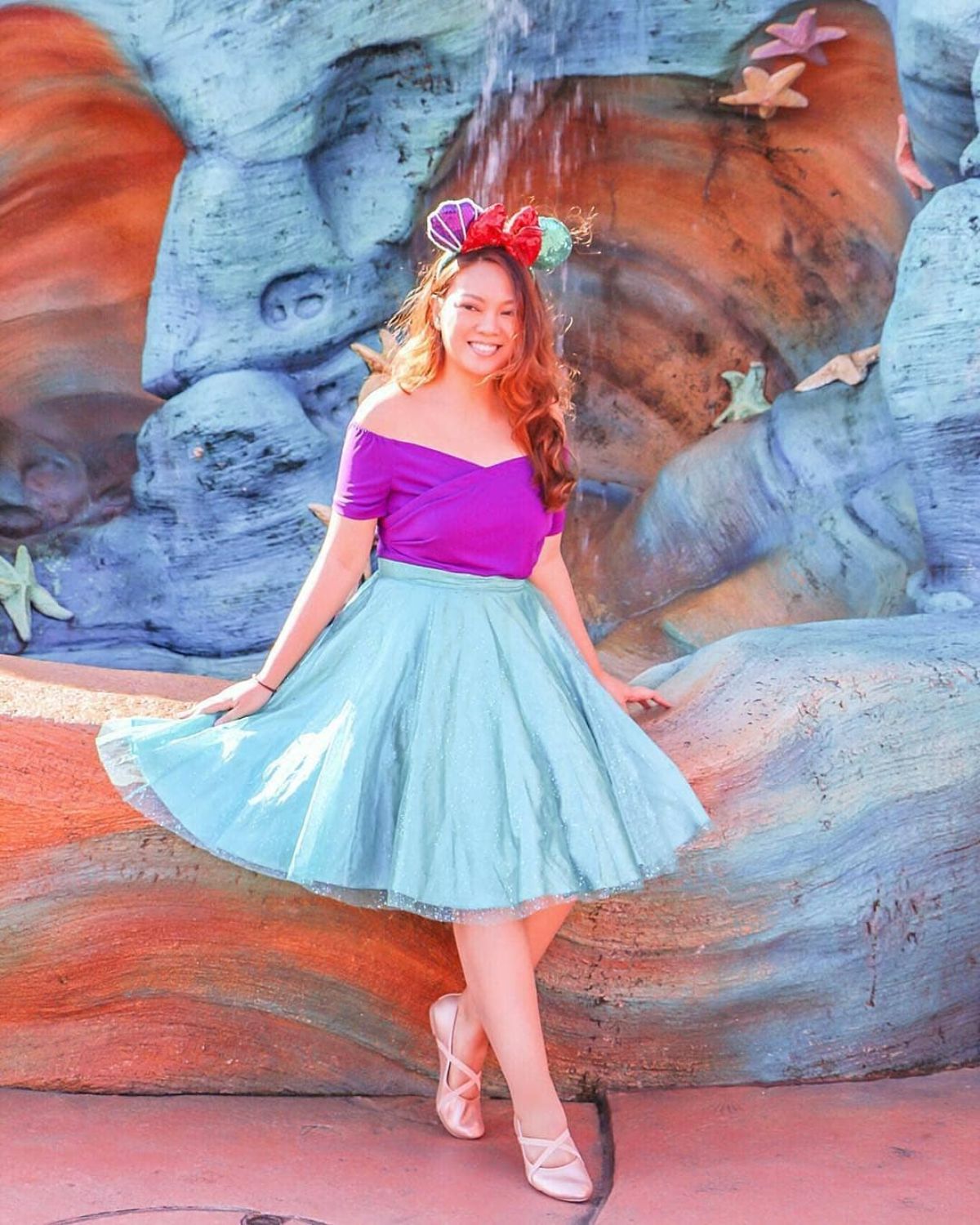 This is a fancier Disney outfit for women. She is wearing Ariel Minnie Mouse ears, a purple shirt, a green skirt, and light pink flats.
Shop this look:
Related Content: 20 Little Mermaid Facts You Might Not Have Known
2. Ariel Outfit With Leggings
This casual Little Mermaid outfit is so cute and perfect for a day of running around the theme park.
She is wearing a purple top, a light purple cardigan, green leggings, white sneakers, and a small backpack.
I love how she took her outfit photo at the California Adventure ride!
Shop this look:
3. The Little Mermaid Disneybound For Summer
This Ariel Disney outfit is great for summer! She is wearing a purple cropped tank top, green shorts, and a small white purse.
She is also holding a fork aka a dinglehopper as Scuttle calls it!
Shop this look:
4. Ariel Outfit With A Skirt
This Disney Ariel outfit is super cute!
She is wearing Little Mermaid ears, a purple Little Mermaid shirt that says "Kiss The Girl", a green mermaid scale skater skirt, and a Little Mermaid purse.
Shop this look:
Related Content: 7 Elsa Disneybound Outfit Ideas Perfect For Your Next Disney Trip
5. Ariel On Land Disneybound
This Disneybound is perfect if you're wanting to dress like Ariel when she has legs and feet.
She is wearing a white shirt, black shirt, blue skirt, a blue headband, a Flounder purse, and black wedges.
Shop this look:
6. Fancy Ariel Outfit
This Ariel outfit is very fancy. It probably isn't great for wearing to the parks and walking a lot in, but you could still wear it as a costume or for a party.
She is wearing a purple top, a purple belt, a green skirt, a green mermaid scale headband, and purple seashell earrings.
Shop this look:
7. Casual Ariel Disneybound
This Little Mermaid Disneybound outfit is comfortable and practical for a day at the Disney parks.
She is wearing Flounder ears, a purple tank top, green high waisted pants, a shell purse, and white sneakers. She also has a little Sebastian on her shoulder.
Shop this look:
Conclusion
These Ariel Disneybounds are so cute and fun if you're wanting to dress like a princess! I hope you found some outfit inspiration that you love.
Another great place to take Ariel photos is in Walt Disney World at the Art Of Animation Resort. They have some really cool Little Mermaid themed areas.
If you're going with your significant other, you could have him Disneybound as Prince Eric!
Tag us in your Ariel Disneybounds on Instagram @thatdisneyfam_!
Pin this image so you can find this post later!
As an Amazon Associate I earn from qualifying purchases.