Are you planning a trip with your family or friends to Disney World and wondering what the Hollywood Studios breakfast options are?
Hollywood Studios is one of the four Walt Disney World parks. The others are Magic Kingdom, EPCOT, and Animal Kingdom.
As we all know, "breakfast is the most important meal of the day." Having a good breakfast is essential before you spend a long day walking around the Hollywood studios Disney park and going on rides.
We know how long those lines get, so you'll need a good energy boost! Forget the hassle of having to pack those pastries that you eat on the go.
Whether you're spending a week at Disney World or just going for a day before going on a Disney Cruise Line vacation, you need to know the breakfast options.
If you want to grab a quick bite and go or want to sit down and enjoy a breakfast platter, we'll give you options.
We've prepared a list for you to read of the top six places to have breakfast at Hollywood Studios!
Where to Eat Breakfast at Hollywood Studios
These are the restaurants that have Hollywood Studios breakfast options.
1. Woody's Lunch Box
Doesn't this name sound nostalgic? This restaurant is a reminder of the lunchboxes our mothers used to make for us as children.
The Walt Disney Company made this such a fun restaurant. It's as if Andy has grown up and opened his own restaurant, inspired by his lunchbox as a child.
If you're in Toy Story Land, you must visit  Woody's Lunch Box. This Toy Story themed restaurant is enjoyable for all ages.
The menu includes breakfast bowls with options for eggs and sides of potato barrels and gravy.
They also have a selection of French toast options and tasty beverages. For a quick bite, you can grab one of their Lunchbox Tarts!
You can do a mobile order here for a quick pickup.
Related Content: 9 Best Gluten-Free Disney Springs Food Options To Try
2. Hollywood and Vine
For a table service breakfast restaurant, this is the place to go. It's also perfect if you have children in your group, as the restaurant offers the Disney Junior Play n' Dine Breakfast experience.
You or your children might meet some of your favorite Disney characters as you're enjoying your breakfast.
Those Disney characters rotate around the tables and greet the guests.
The restaurant staff will start you off with a shared pastry basket for the table that includes croissants, muffins, and bread.
Their menu includes all-you-care-to-enjoy Mickey waffles, pancakes, French toast, eggs, and other American breakfast items.
Remember to make a reservation early on, as this place gets packed pretty fast, and waiting lists can be long.
You can use your Disney Dining plan to eat here.
Character dining is the best! Some of the characters you might meet are Doc McStuffins, Fancy Nancy, Vampirina, and Sofia The First.
3. Ronto Roasters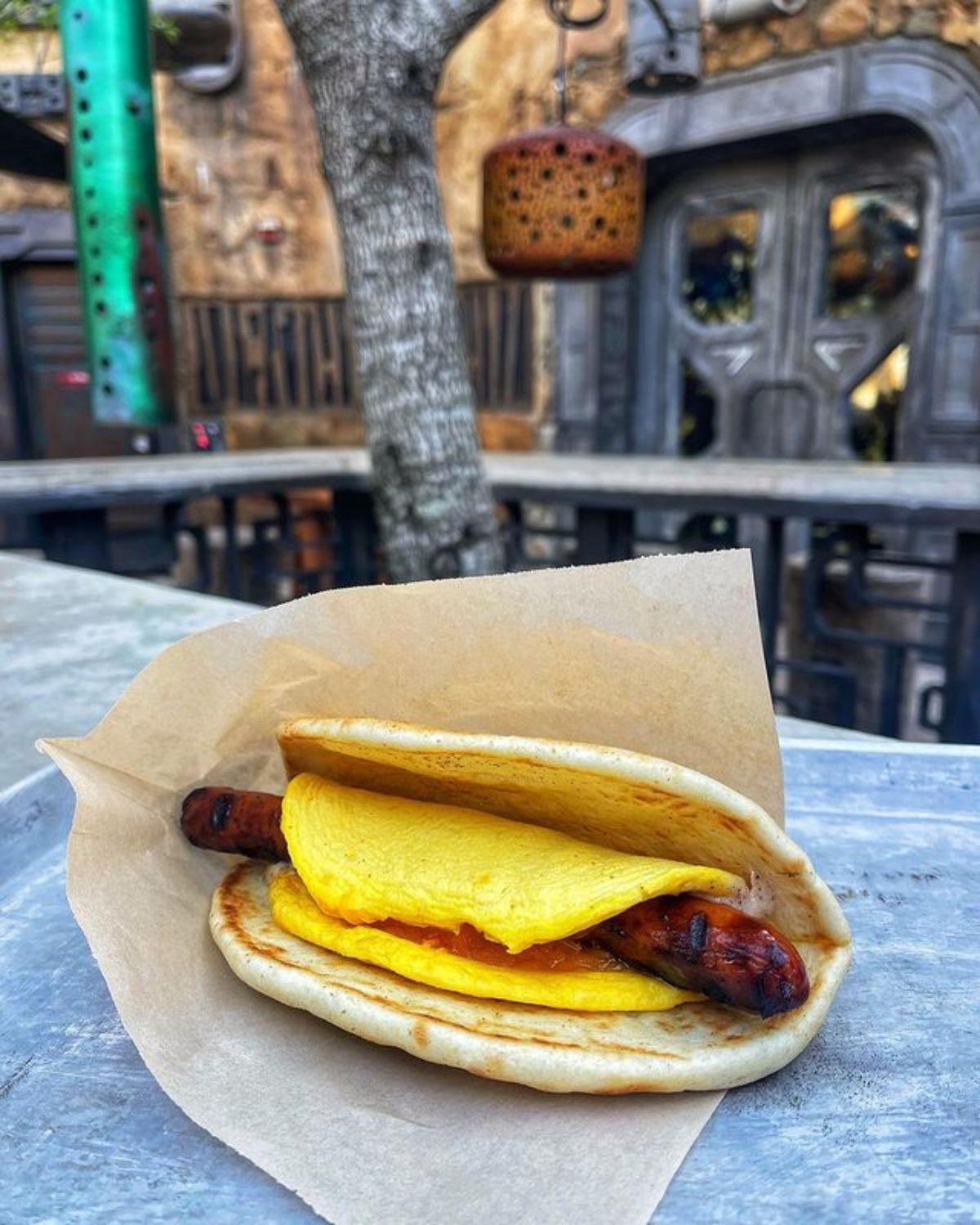 Ronto Roasters is one of the newer restaurants in Hollywood studios. Located at Star Wars: Galaxy's Edge, this restaurant is a favorite stop for tourists.
Ronto Roasters has an unconventional interior that looks like a meat stall. The inside features a droid and engine that seem to be roasting the meat.
Ronto Roasters is a great place for grabbing a quick bite if you're rushing to start your day.
Their breakfast menu offers a selection of scrumptious wraps such as their famous "Ronto Morning Wrap," which has eggs, grilled pork sausage, cheese, and peppercorn sauce.
They also have Rising Moons Overnight Oats, Triple Suns Breakfast Wrap, and more.
Don't worry if you or another group member are vegetarians; Ronto Roasters has plant-based options and even an allergy-friendly menu!
Don't forget to grab their famous Tatooine Sunset beverage with your breakfast for a sweet melon and blueberry flavor.
We love quick service locations like this!
4. ABC Commissary
This restaurant is the perfect place to relax before you dive into a fun-packed day.
It has a spacious and cozy indoor area where you can enjoy your coffee while choosing from its various options.
They don't technically have a breakfast menu, but they do open at 10am. So you could pop in and grab a few snacks for a late breakfast.
They have Apple Slices, PB&J Uncrustable, Mini Baybell Snack Cheese, Grilled Ham and Cheese Sandwich for kids, Tropical Tart, juice, milk, coffee, tea, and hot chocolate.
It makes for an easy quick service breakfast.
You can find ABC Commissary down Commissary Lane, on the left side of the Chinese Theater. The restaurant has an old-fashioned interior.
The place is full of posters and television screens viewing clips from popular ABC-TV shows.
Related Content: 7 Hollywood Studios Outfit Ideas You'll Certainly Love
5. The Trolley Car Café
The Trolley Car Café is the Starbucks of Hollywood Studios. The café is located on Hollywood Boulevard, past the park's entrance.
It's designed like a train station, where you sit inside a trolley car to eat.
You can start your day off with your favorite coffee, which includes a selection from Starbucks, while you choose your breakfast sandwich or pastry.
The carrot cake cookies are a customer favorite at Trolley Car Cafe and a must-have. You'll also find bakeries to satisfy a savory and sweet tooth.
6. Hollywood Scoops
Hollywood Scoops is known for their Waffle Platter. It has Mickey shaped waffles with blueberries, whipped cream, and syrup. That sounds like the perfect Disney World breakfast to me!
They also serve coffee, water, and mimosas.
Breakfast Comparison
Now that you have a basic idea about those popular breakfast places and the foods they serve, here's a brief comparison between them.
| | | | | |
| --- | --- | --- | --- | --- |
| Restaurant Name | Opening Time | Service Speed | Mobile Ordering | Price Average |
| Docking Bay 7 Food and Cargo | 11 AM | Quick Service | Yes | $15 |
| Woody's Lunch Box | 8:30 AM | Quick Service | Yes | $15 |
| Hollywood and Vine | 8:30 AM | Quick Service | No | $35-39 (including the play n' dine experience) |
| Ronto Roasters | 8:30 AM | Quick Service | Yes | $15 |
| ABC Commissary | 10 AM | Quick Service | Yes | $15 |
| The Trolley Car Café | 8:00 AM | Quick Service | No | $15 |
Final Words
Enjoying a day at Hollywood studios shouldn't be done on an empty stomach. Whether you're in a rush or want to sit and enjoy breakfast, you can't go wrong with our restaurant options.
So, if the next time you're at Hollywood Studios you're after a great breakfast, this list should help you know what places to try out.
We hope it saves you time on your next vacation. Enjoy, and bonne appétit!
Note: Hollywood Brown Derby does not serve breakfast anymore.
Pin this image so you can find this post with Hollywood Studios breakfast options later!