Disclosure: Some of the links below are affiliate links. At no cost to you, I will earn a commission if you click through and make a purchase.
If you're a Disney loving mama to be, then you're going to love finding a Halloween costume from this list of Disney maternity costumes!
These pregnant Halloween costumes will showcase your cute pregnant belly.
Pregnant women can use their bump to make their Halloween costume extra cute and special. Each costume idea works for any stage of pregnancy and also works for plus size women.
There are popular maternity costumes like a skeleton or a pumpkin maternity shirt, but if you love Disney and want to dress as a Disney character, then you'll want to dress as one of the Disney maternity costumes in this post instead!
Disney Maternity Costume #1 – Winnie The Pooh
This Winnie the Pooh pregnant costume is my favorite of these Disney maternity costume ideas! If I'm ever pregnant in October, this will be my costume.
Winnie the Pooh is a cute costume for anyone, but especially if you have a cute baby bump!
She is wearing a yellow bodycon maternity dress with a red sweatshirt and white sneakers. I love how she is holding a red balloon like Pooh Bear.
You can wear an empire waist dress instead if you prefer, but I love the way tighter ones really show your bump. Also, you can reuse the dress for your baby shower if you'd like.
I would also add Winnie the Pooh ears to really complete the look! If it's not going to be cold for you on Halloween, you can do a red crop top instead of a hoodie.
Shop this costume:
Related Content: 6 Best Disney Villain Costumes For Women In 2023
2. Mike Wazowski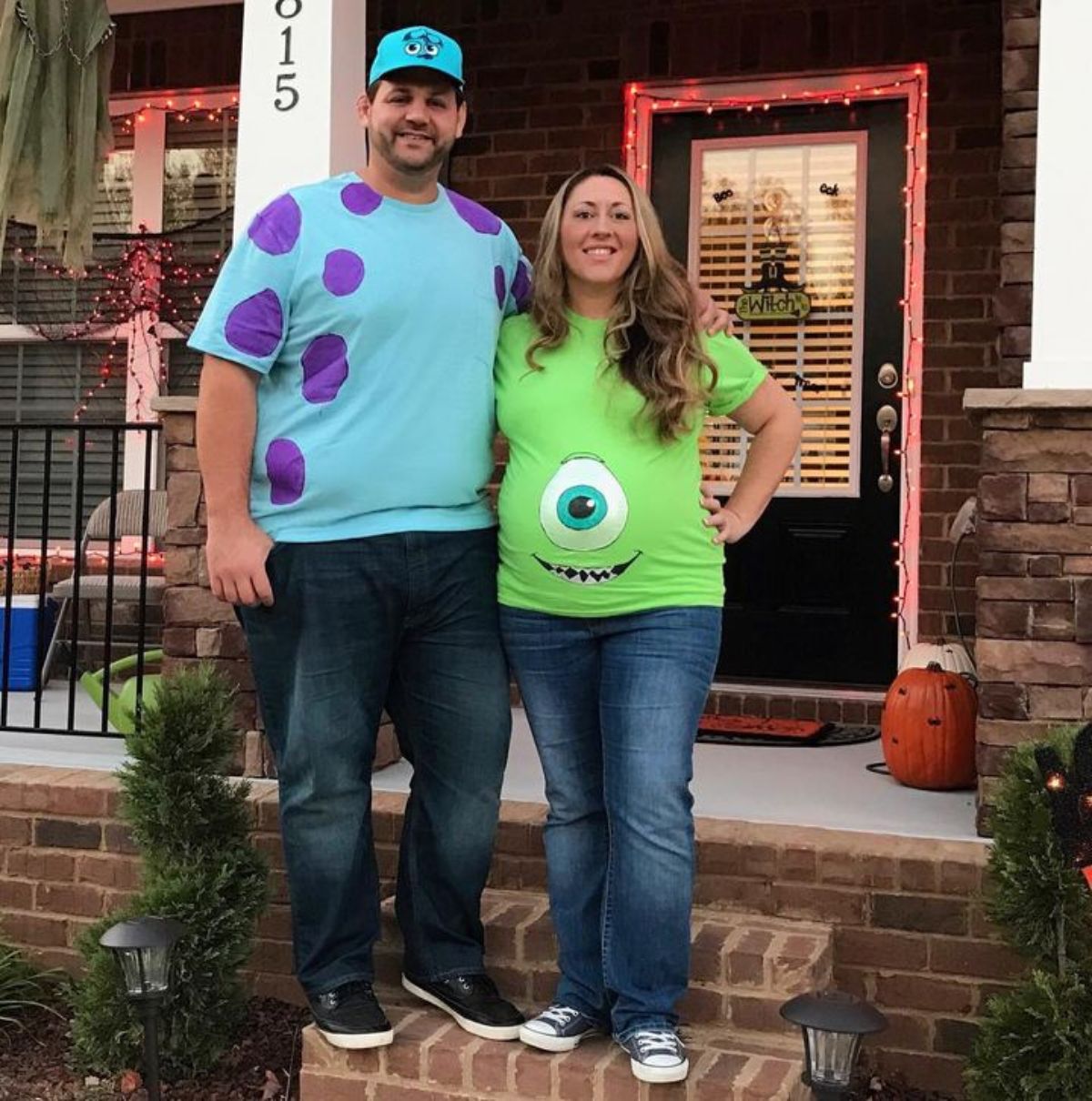 Mike Wazowski is another Disney pregnant costume that is so cute! It works so perfectly to have his face on your belly since he's round.
For this costume you'll need a Mike Wazowski maternity shirt. You can pair it with jeans, leggings, or whatever bottoms are the most comfortable to you.
If you want to make it a Monster's Inc couples costume, you can have your significant other dress up as Sulley!
This couple had the dad wear a Sulley shirt and a Sulley hat. You could do a Monster's University hat instead though.
Shop these costumes:
Related Content: 19 Best Disney Family Halloween Costumes
3. The Genie
The Genie from Aladdin is such a unique pregnant Halloween costume! I love this idea, especially if you're going to do a Disney family costume.
This mama is wearing a blue unitard with a red sash belt, and gold cuff bracelets. She also has her hair up to look like the Genie's hairstyle.
Her husband is Jafar, her kids are Aladdin, Abu the monkey, and Princess Jasmine. Her dogs dressed up too!
Shop these costumes:
4. The Death Star
If you're a Star Wars fan, then this is the maternity Halloween costume for you! She is wearing a black shirt with the Death Star on it, a black hooded cloak, and black pants.
You're sure to get a lot of compliments with how creative this Disney costume idea is!
You can get some really cute Death Star maternity shirts on Etsy. I linked them below.
Shop this costume:
Related Content: 8 Best Mommy And Me Disney Costumes
5. Smee
This Peter Pan inspired couples costume is so fun! The pregnant mama is Smee and her husband is Captain Hook.
She is wearing a blue and white striped shirt with a red hat, gold glasses, blue harem pants, and sandals. She also has a white long sleeve shirt underneath, but you don't need to do this if it isn't cold for you on Halloween.
Her husband went all out with his Captain Hook costume and they look amazing!
Shop these costumes:
Pin this image so you can find this post later!
As an Amazon Associate I earn from qualifying purchases.