Disclosure: Some of the links below are affiliate links. At no cost to you, I will earn a commission if you click through and make a purchase.
It's so fun to dress up for Halloween, especially when you're whole family gets into it and does matching costumes. If you need ideas of what to do, then check out these Disney family Halloween costumes.
Disney Family Halloween Costume #1 – Monsters Inc.
Monster's Inc is a really cute Pixar movie. I prefer the movie Monster's University, but think Monster's Inc is better to dress up as since it has Boo! This family did Boo for the little girl, Mike for mama, and Sulley for dad.
If you're looking for scary Halloween costumes, then this is probably your best bet for Disney ones!
Shop these costumes:
2. Frozen
I love these Frozen family Halloween costumes. My twins both love Frozen and Frozen 2, so this would be so fun for our family to do.
The daughters are dressed up as Elsa and Anna from Frozen 2, their baby boy is Olaf, mom is Sven, and dad is Kristoff. This might be my favorite of the Disney family Halloween costumes!
Shop these costumes:
Related Content: 13 Best Disney Family Costumes For 3
3. Toy Story
Toy Story is a classic! There are 4 Toy Story movies so you and your kids are sure to love at least one of them and some of the characters.
This family dressed their little girl up as Buzz Lightyear, mom is Jessie, and dad is Woody.
Shop these costumes:
4. Lion King
This family went all out with their Lion King family costumes!
Dad is Rafiki, Mom is Scar, the kids are Simba and Zazu, and the dog is Pumbaa the warthog. I love lion makeup they did on their faces!
Shop these costumes:
Related Content: 17 Best Disney Halloween Costumes For Couples
5. Winnie The Pooh
Tigger is my #1 favorite Disney character, so I absolutely love these Winnie The Pooh family Halloween costumes!
Mama is pregnant and dressed up as Winnie The Pooh. This is one of the cutest maternity Halloween costume ideas! Dad is Christopher Robin, and the kids are Tigger and Piglet.
I love this for family costume ideas because there are so many Winnie The Pooh characters that you can do this for the whole family even if you have more family members. You can also add Rabbit, Eeyore, and more.
Shop these costumes:
Related Content: 8 Best Disney Baby Halloween Costumes
6. The Little Mermaid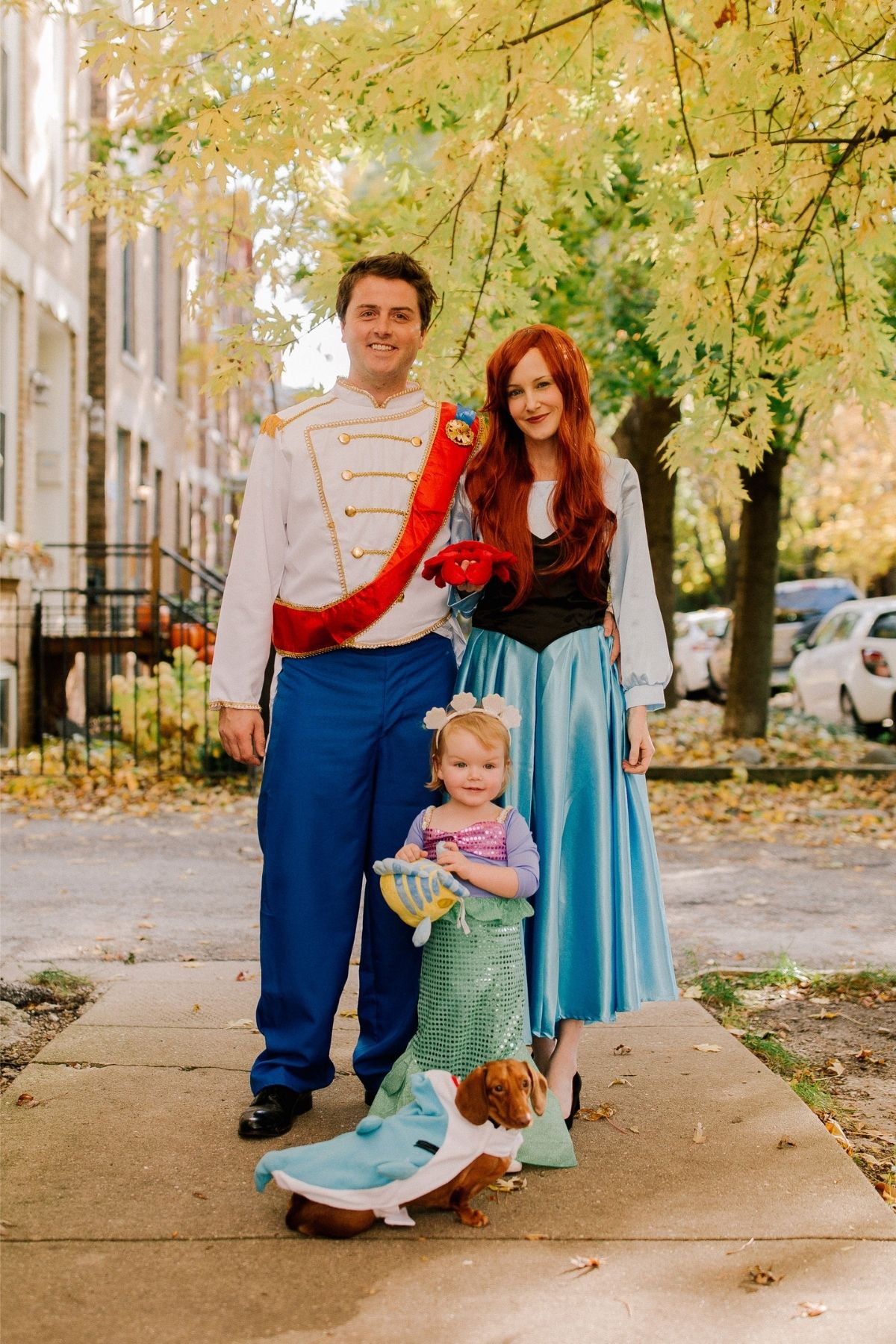 The Little Mermaid is a classic Disney movie from the 90s. I have always loved the movie, especially because Ariel has red hair like me!
For this family costume, mom dressed up as Ariel with legs, dad is Prince Eric, their baby is Ariel when she's a mermaid, and their dog is a shark. These costumes are so cute!
Shop these costumes:
7. Mickey and Minnie Mouse
You can't have a list of Disney costumes without Mickey and Minnie! This family had mom and daughter dress up as Minnie and dad and son dress up as Mickey.
Our twins had an Oh Twodles birthday party for their second birthday. They dressed up as Mickey and Minnie for it and loved it! So I'm assuming your kids would love to do these costumes too!
Shop these costumes:
Related Content: 10 Disney Halloween Shirts Perfect For Halloween Time
8. Mary Poppins
Chim chiminey! How cute is this Mary Poppins family Halloween costume?!
Their daughter dressed up as Mary Poppins and mom, dad, and the 3 sons are all chimney sweeps.
Shop these costumes:
9. Snow White
Snow White And The Seven Dwarfs was the first Disney animated feature film.
For these costumes mom dressed up as the Disney princess Snow White, dad is Prince Charming, and their son is Dopey, the most popular dwarf from the movie.
Shop these costumes:
Related Content: 16 Best Disney Princess Costumes For 2023 Halloween
10. The Incredibles
The Incredibles are a family of superheroes from the movies The Incredibles and Incredibles 2. They have 2 sons named Dash and Jack Jack and a daughter named Violet.
For our twins 2nd Halloween they dressed up as Dash and Violet! We just had to since our daughter's name is Violet. I like how these costumes are comfortable and easy to put on.
Shop these costumes:
11. 101 Dalmatians
This family dressed up as Dalmatians Cruella De Vil, and one of her dog snatching helpers. I love the dog makeup the mom did on her face.
Shop these costumes:
12. Alice In Wonderland
I cannot get enough of these Alice In Wonderland family costumes!
This family did an amazing job and you definitely don't question who they're dressed up as. They have Alice, the White Rabbit, the Queen of Hearts, and the Mad Hatter.
Shop these costumes:
13. Lady and The Tramp
Lady And The Tramp is such a cute idea that I don't think most people would think to dress up as.
The dad is the tramp, mom is Lady, and their baby is the spaghetti that the dogs eat together.
Shop these costumes:
14. Cinderella
Cinderella is a classic! This family dressed up their baby as Cinderella, mom as the Fairy Godmother, and dad as Prince Charming.
Shop these costumes:
15. Peter Pan
Peter Pan is always a fun idea for groups or families to dress up as!
The dad is Peter Pan, the mom is Wendy, and the baby is Tinkerbell. How can you not love a baby dressed up as Tinkerbell?!
These are really cute Disney Halloween costumes for a family of 3.
Shop these costumes:
16. Star Wars
This family has amazing DIY Star Wars costumes! They're even holding lightsabers to complete their looks.
They dressed up as a Jedi, Darth Maul, Darth Vader, BB-8, and Kylo Ren.
Shop these costumes:
17. Wreck It Ralph
Wreck It Ralph is such a cute idea for Disney family Halloween costumes!
This family dressed up as Ralph, Fix It Felix, Vanellope Von Schweetz, and Nicelander Mary.
Shop these costumes:
18. Up
Up is such a great Disney movie! This family did Carl for the dad, Russell for the baby, and Kevin the bird for the mom.
Shop these costumes:
19. Disney Food
These Disney food family costumes are so creative and unique!
Mom is a Mickey waffle, dad is a churro, and their daughters are a Dole whip and a Mickey ice cream bar.
Pin this image to find this post later!