Disclosure: Some of the links below are affiliate links. At no cost to you, I will earn a commission if you click through and make a purchase.
There's nothing better than dressing up with your family for Halloween. If you're all Disney lovers, then you should definitely do one of these Disney family costumes for 5.
These family Halloween costumes have characters from your favorite Disney movies and they're perfect for families of 5.
Your family is going to love these costume ideas. They are easy, DIY, and cute.
You can wear these Disney Halloween costumes if you're going to travel to Mickey's Not So Scary Halloween Party in Disneyland, or you can wear them to work, school, a Halloween party, or for trick or treating.
Let's jump right into this ultimate collection of Disney family Halloween costume ideas!
Disney Family Costumes for 5 #1 – Toy Story
Toy Story is so classic and has so many cool characters that your family can choose from.
This family dressed up with the dad as Buzz Lightyear, the mom as Barbie, and their 3 kids as Little Bo Peep, Woody the cowboy, and their toddler is Forky from the Disney movie Toy Story 4.
Shop these costumes:
Related Content: 10 Best Disney Family Costumes For 6
2. The Little Mermaid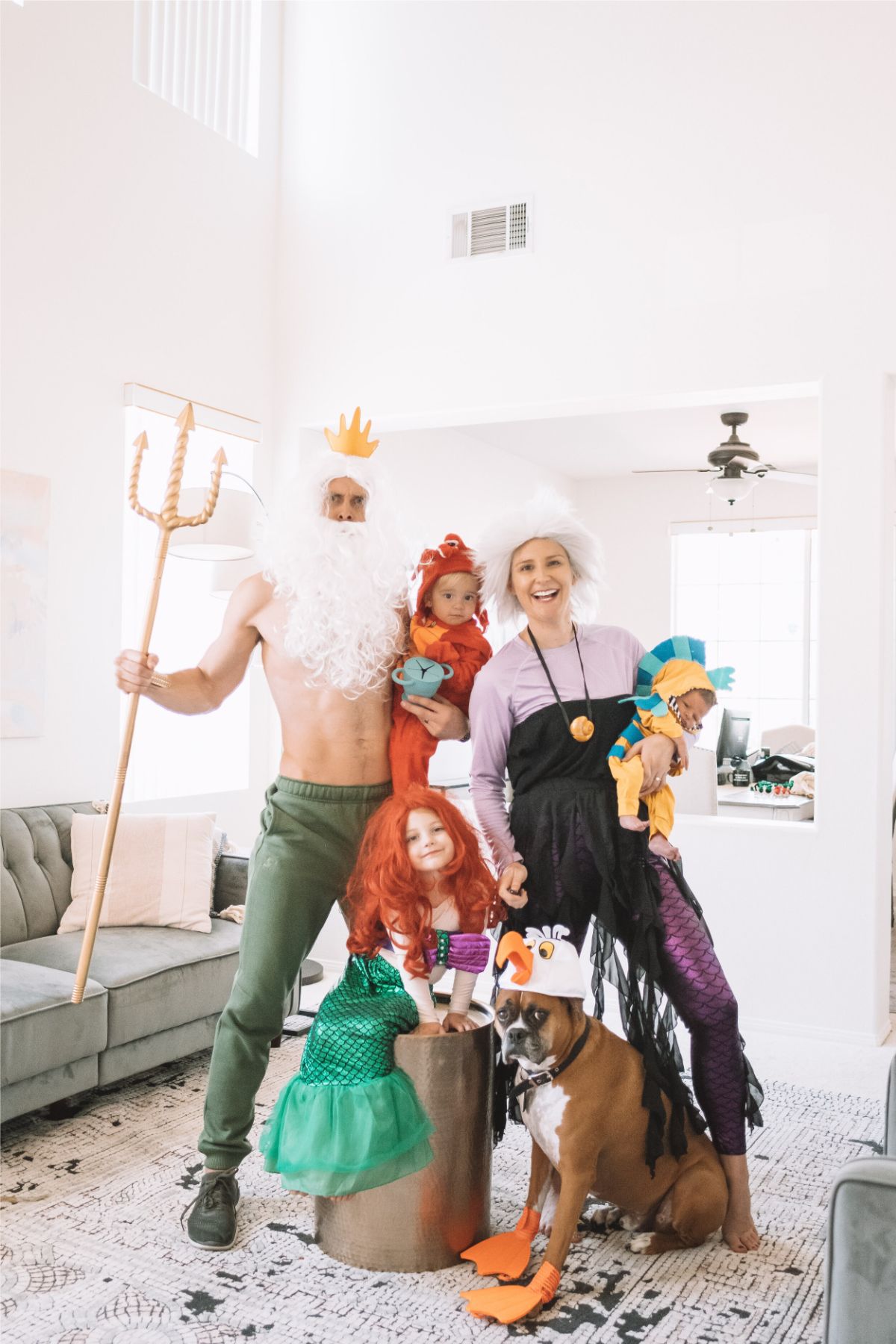 This family dressed up as characters from the 1989 movie The Little Mermaid.
The dad is King Triton, the mom is the villain Ursula, and the kids are Ariel, Sebastian the crab, and Flounder the fish. They even dressed their dog up as Scuttle the seagull.
Shop these costumes:
3. Hocus Pocus
I don't think there's anything more iconic than a Hocus Pocus family Halloween costume!
The parents are Billy Butcherson and Dani Dennison. Their 3 daughters are in the Sanderson Sisters costumes. They are Winifred (Winnie) Sanderson, Sarah Sanderson, and Mary Sanderson.
Other characters from this movie that you could dress up as are Thackery Binx the black cat, Max Dennison, Allison, Jay, and Ernie aka Ice.
I love this Disney Halloween costume so much!
Shop these costumes:
4. 101 Dalmatians
This is a great family Halloween costume for a family of any size because you can have lots of people dressed up as dalmatian dogs!
The mom is dressed as Cruella De Vil, the Disney villain of the movie. The dad is Jasper, one of Cruella dog snatching sidekicks. Their 3 kids are all dalmatians.
Shop these costumes:
5. The Nightmare Before Christmas
This whole family looks amazing in their Nightmare Before Christmas family costume! The parents are Sally and Oogie Boogie. The kids are Jack Skellington, Zero the ghost dog, and a cute little pumpkin.
Shop these costumes:
6. Frozen
I can't get enough of how sweet this Frozen family costume is! The mom is Olaf the snowman and she is wearing her baby in a blue ring sling baby carrier that she put a snowflake on.
The dad is dressed up as Kristoff and their daughters are Coronation Anna and Elsa from Frozen 2.
Other characters to dress up as from the Frozen movies are Sven the reindeer, Prince Hans, and Grand Pabbie.
Shop these costumes:
7. The Incredibles
The Incredibles are always a really fun and easy costume to do. It works for families, couples, friends, or individuals.
This family has 2 boys and 1 girl, so their kids are Violet, Dash, and baby Jack Jack. The parents are Mr. Incredible and Elastigirl.
Shop these costumes:
8. Peter Pan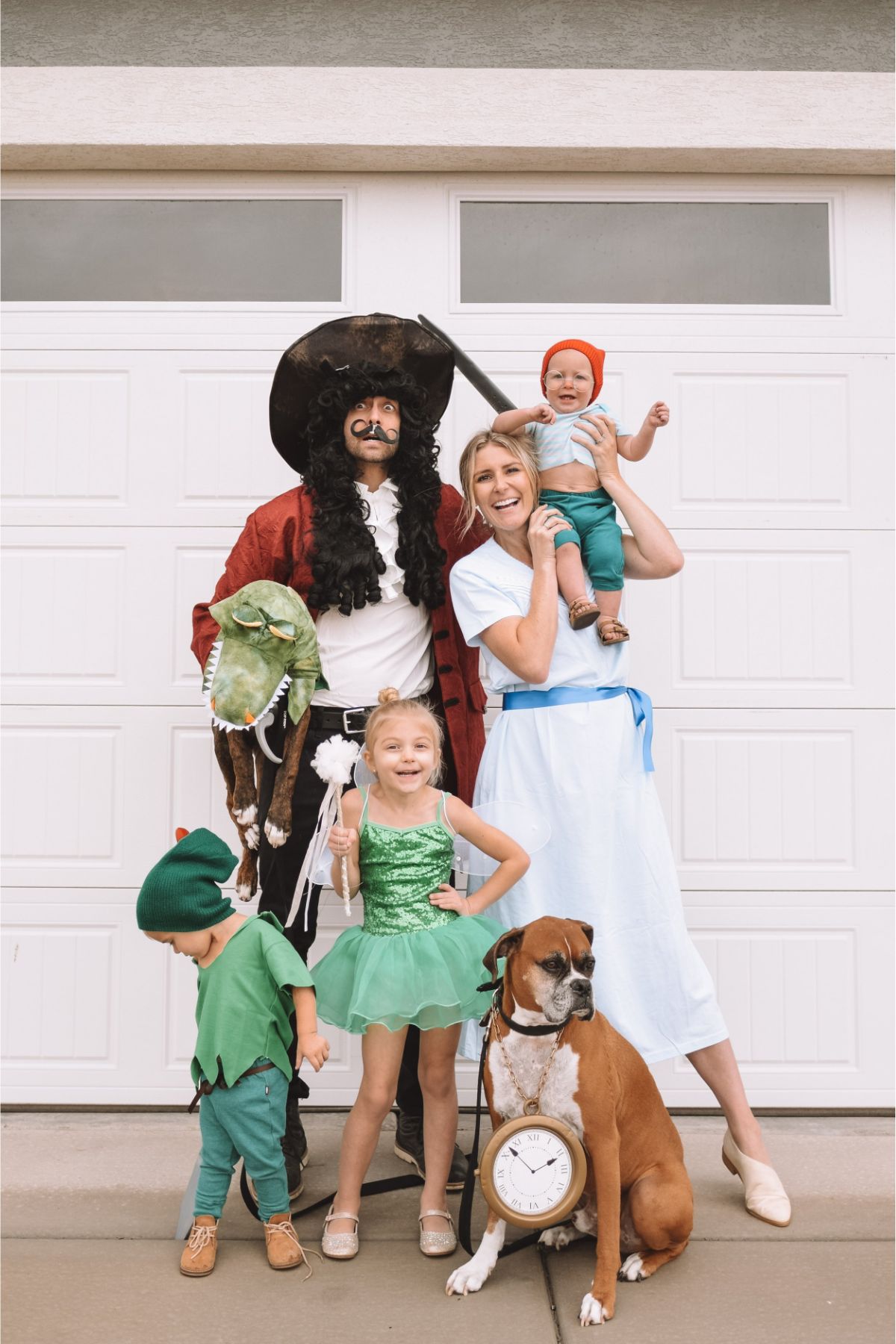 This Peter Pan family costume is so cute! They even had their dogs dress up as an alligator and a clock!
The mom is Wendy, the dad is Captain Hook, and the kids are Tinker Bell, Peter Pan, and Smee.
Shop these costumes:
9. Star Wars
These DIY Star Wars family costumes are so cool and unique! The five family members are dressed up as a Jedi, Darth Maul, Darth Vader, the droid BB-8, and Kylo Ren.
Other Star Wars characters that would be fun to dress up as are Grogu, The Mandaloria, Yoda, Chewbacca, Rey, Princess Leia, Luke Skywalker, Han Solo, and R2D2.
There are so many characters to choose from! There's sure to be someone for everyone in your family to dress up as.
Shop these costumes:
10. Sleeping Beauty
This Disney family costume has the mom dressed up as Maleficent and the dad as Diablo (Maleficent's pet raven). Their 3 daughters are the fairies from the movie Sleeping Beauty. They're Flora, Fauna, and Merryweather.
You could also have someone dress up as Prince Phillip instead.
Shop these costumes:
Wrapping Up
There are so many fun Disney family costume ideas that you can choose from! If you're still needing a little more inspiration with costume ideas, your family of 5 could dress up as the Fab Five (Mickey Mouse, Minnie Mouse, Donald Duck, Goofy, and Pluto).
Other ideas are Alice In Wonderland (Alice, Mad Hatter, Cheshire Cat, the Queen Of Hearts, and the White Rabbit) and Mary Poppins (Mary, Bert, and 3 penguins)
Pin this image so you can find this post later!
As an Amazon Associate I earn from qualifying purchases.