Disclosure: Some of the links below are affiliate links. At no cost to you, I will earn a commission if you click through and make a purchase. 
If you have a little Bluey lover, then they're going to love these Bluey crafts!
They are creative, cute, easy, and perfect if you're a Bluey fan.
You'll find Bluey craft activities with the whole Heeler family including Bluey, Bingo, Chilli, and Bandit. Some also have Pom Pom, Snickers, Coco, and more.
You can do these at home or for your children's Bluey birthday party.
Bluey is a cute little Blue Heeler dog. If you have a toddler, then I'm sure you know exactly who Bluey and Bingo are!
Are you ready to see these amazing Bluey craft ideas? Let's get to it!
Bluey Crafts #1 – Bluey House
This is my favorite Bluey themed craft! Most kids are going to need some adult help with it though.
It's a cardboard version of the Heeler house and it's even decorated for Christmas!
To make this you'll need cardboard, Bluey toys of the family, construction paper, corks, glue, and scissors.
This craft is so fun to play with once it's done!
Things you'll need:
Related Content: 7 Bluey Cupcakes That'll Be A Hit For Your Bluey Fan
2. Bluey Rock Painting
Rock painting is such a simple activity that's really fun for people of all ages.
This rock has Bandit, Bluey's dad painted on it. You could totally paint anyone from the show though!
The supplies you'll need are smooth flat rocks, paint brushes, and paint or paint pens.
Things you'll need:
3. Bluey and Bingo Balloons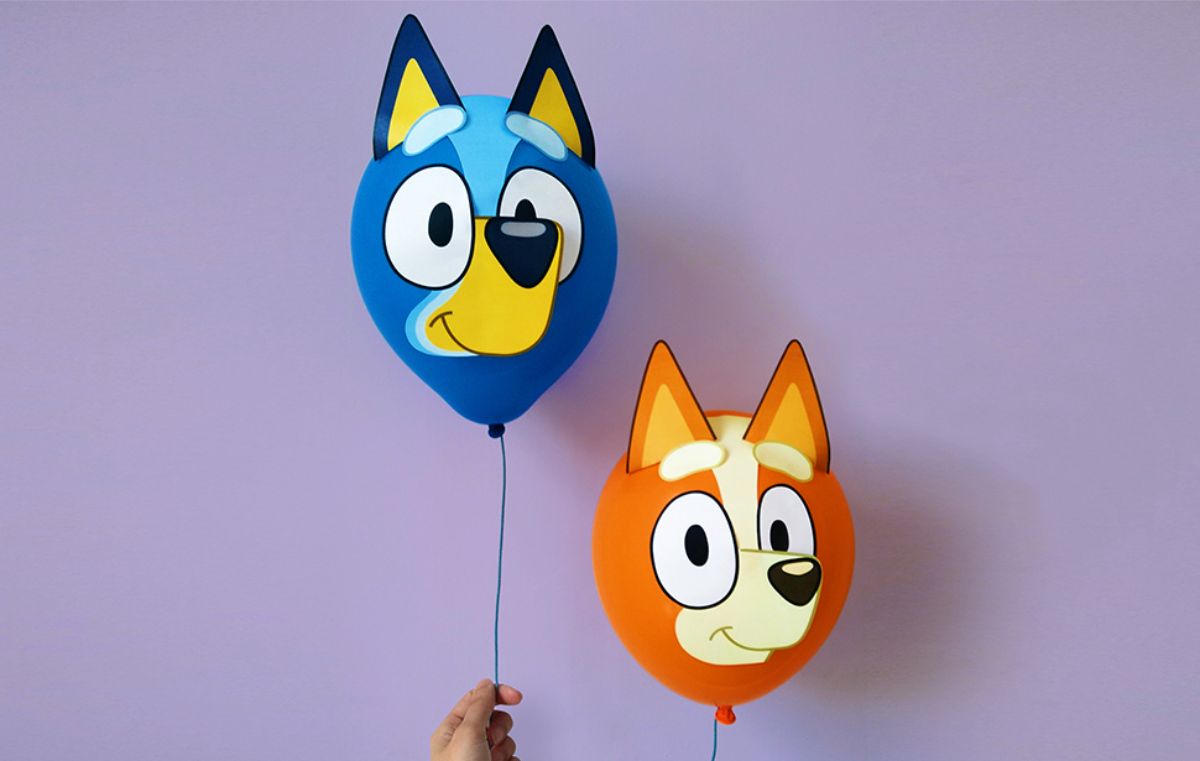 These Bingo and Bluey balloons are just precious! You could even play keepy uppy with them.
You'll need some print outs of Bluey and Bingo's faces, which you can get here.
You'll also need orange and blue balloons, blue balloon ribbon, scissors, and glue.
Things you'll need:
4. Bandit and Bluey Easter Eggs
These Bluey and Bandit Easter eggs are the perfect Easter craft for little Bluey fans!
You'll need blue Easter eggs, construction paper, glue, and scissors to make these.
If you're looking for Easter Bluey crafts, then this one is perfect.
Things you'll need:
5. Yes/No Button
Who could forget the Yes/No Button from Dance Mode? Not me!
This Yes/No Button craft is so unique and creative.
You can find instructions for this Bluey activity here.
You'll need a small box, yellow wrapping paper, paint (red, green, and white), paintbrushes, glue, scissors, tape, and blue ribbon to make this Bluey craft.
Things you'll need:
6. Bluey Bean Bag Toss
A bean bag toss is such a fun summer activity for adults and kids!
Make it together, then have fun playing together too.
You'll need a large box, paint, paintbrushes, glue, masking tape, scissors, felt, ziploc bags, dried kidney beans, and print outs of your favorite characters.
Get instructions and print outs of the Bluey characters here.
Things you'll need:
Related Content: 11 Bluey Birthday Cake Ideas That Are Just TOO Cute
7. Sleepytime Mobile
Have you seen the Sleepytime episode of Bluey? It's precious and might even make you emotional.
You can make your own Sleepytime mobile with a solar system. Wouldn't this be so fun to make with kids who love Bluey crafts?
You'll need sticks with blunt ends (you don't want sharp ones for your kid to work with), tan yarn or twine, glue, scissors, masking tape, and some print outs of the planets, Bingo, and Floppy.
You can get the print outs here.
Things you'll need:
8. Bluey Toilet Paper Roll Craft
This fun Bluey toilet paper roll craft is so creative!
You'll need a free printable of Bluey to color and attach to the toilet paper roll. You can get it here.
You'll also need white cardstock paper, glue, scissors, and markers to color the print out with.
This Bluey paper craft is easy and fun for kids who love coloring.
Things you'll need:
9. Heeler Crochet Hats
This is a craft idea for kids who are a little older. It's crochet hats of each member of the Heeler family.
You'll need a crochet pattern, a crochet hook, and yarn to make these.
They're perfect for kids to wear in the winter or on Halloween if they're dressing up as Bingo or Bluey!
Things you'll need:
10. Heeler Painted Pots
If you have a green thumb and love plants, then this is a great craft for you and your kids to do.
These pots have the Heeler family painted on them. I can't get enough of the cute little Bingo one!
You'll need pots, paint, and paintbrushes to do this Bluey craft idea.
You can also fill the pots with cute little plants after, like succulents or herbs.
Things you'll need:
11. Pom Pom Craft
Pom Pom is easily one of the most lovable characters on Bluey! My little ones can't get enough Pom Pom.
This craft uses white yarn, felt (white, pink, and black), a black marker, glue, and scissors.
You can find the instructions here.
Things you'll need:
12. Bingo Easter Basket
This is the perfect little Easter basket for toddlers! You'll need to download and print some papers with Bingo on them. You can get that here.
You'll also need orange paper, a tissue box, glue, and scissors.
Things you'll need:
Conclusion
I hope you found some Bluey arts and crafts ideas for your and your kids to do!
Which Bluey crafts are you going to make?
Pin this image so you can find this post later!