Donald Duck is a cartoon character who was created by the Walt Disney Company. I'm sure you know what he looks like and probably even what he sounds like, but how much do you really know about him? You're going to learn so much from reading these facts about Donald Duck.
Donald Duck is easily one of the most famous and recognizable Disney characters. He usually wears a blue sailor outfit and a blue hat.
You can see and meet Donald Duck at Disney parks like Disneyland and Walt Disney World.
Let's get to these Donald Duck fun facts so you can learn more about this beloved Disney character!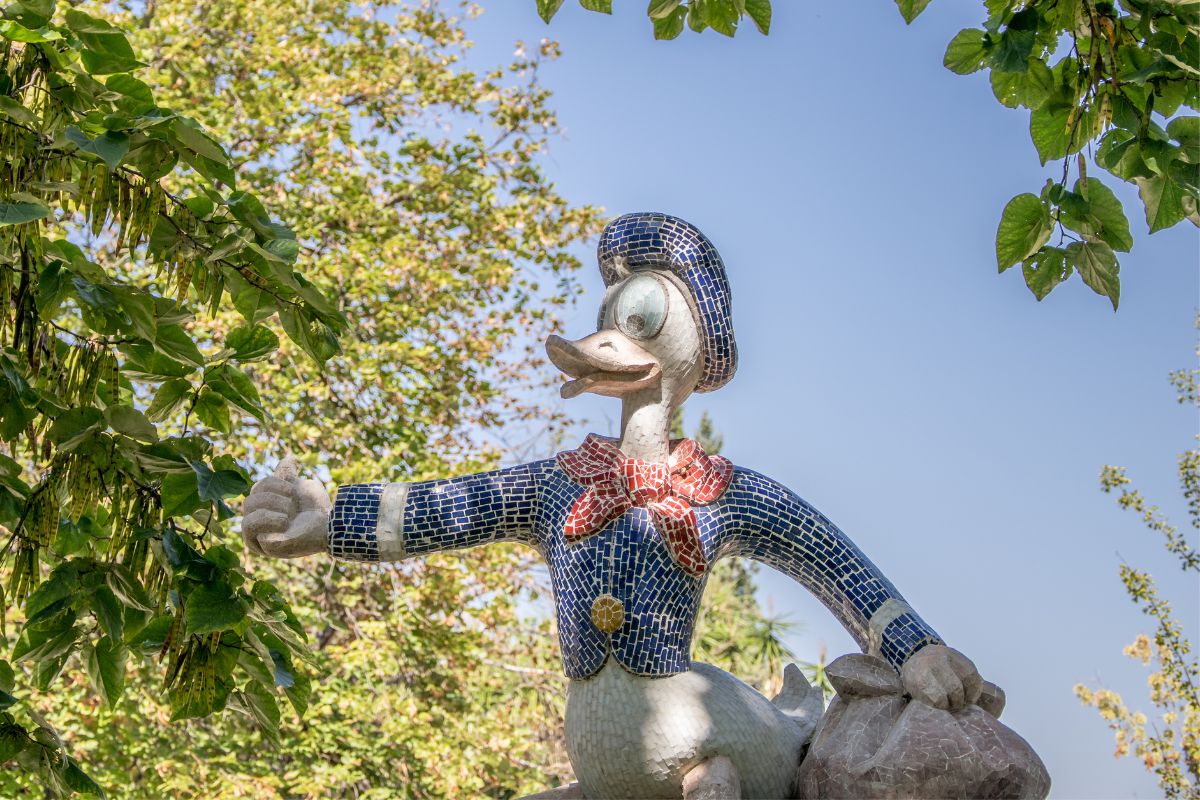 #1 Fact About Donald Duck – He Has A Middle Name
Not every Disney character has a middle name, but Donald Duck is one who does. His middle name is Fauntleroy. So if you've been wondering "what is Donald Duck's full name", it's Donald Fauntleroy Duck.
2. He Made His First Film Appearance In 1934
Donald got his start in a short called The Wise Little Hen. It came out on June 9, 1934. It's a spin on the story The Little Red Hen.
Related Content: 20 Little Mermaid Facts You Might Not Have Known
3. Donald Duck's Birthday Is March 13, 1914
Typically a character's birthday is the day they debuted in a movie or a short, but that is not the case for Donald. Many fans of Donald Duck celebrate him on June 9th instead though since that was when he made his first appearance.
4. His First Starring Role Was 3 Years After His First Appearance
Donald appeared in his first starring role in 1937 in a short called Don Donald. In this short, Donald is in Mexico and is trying to impress his love interest, Donna Duck.
5. It Is Believed That Donald Is Color Blind
The reason people believe this is because of the short Donald Gets Drafted (1942). In this short Donald thinks a green card is the color blue.
6. Donald Duck Is Part Of The Fab Five
The Fab Five includes Mickey Mouse, Minnie Mouse, Donald Duck, Pluto, and Goofy. He's also part of the Sensational Six which includes all of the members of the Fab Five plus Daisy Duck.
7. He Was Created To Be The Opposite Of Mickey Mouse
Walt Disney wanted Donald to be very different from Mickey. Mickey is happy and positive. Donald is more cranky and negative.
8. One Person Did Donald's Duck Voice For Almost 50 Years
Clarence Nash's duck voice was the inspiration for the character Donald Duck. He did the voicing for Donald from 1934 to 1983. That is such a long time!
He then trained Tony Anselmo on how to voice Donald and Disney used a specific microphone to make the duck voice easier to understand and easier for actors to voice.
9. He's In Comic Books
Donald got his comic book start in 1942.
10. Donald Is Related To Scrooge McDuck
Carl Banks developed Donald Duck and also created Scrooge McDuck. In the 1950s he connected some dots and revealed that Donald is Scrooge's nephew, making Scrooge his uncle. Donald's mom and Scrooge are siblings.
11. Donald Is A Twin
Donald has a twin sister. Not much is know about her, but she is the mom of Donald's nephews Huey, Dewey, and Louie.
She's been known as different names including Della, Dumbella, and Thelma. A Dutch cartoon shows that she's an astronaut.
12. Donald And Daisy Duck Weren't Always A Couple
We all know and love Donald and Daisy as a couple, but it wasn't always that way. Donald used to flirt with another duck lady named Donna.
Some people have wondered if Daisy and Donna are the same person or not, but in 1951 Bob Karp made a comic showing they are not the same. Donna was his new neighbor from Mexico who upset Daisy by flirting with Donald.
13. Donald Is A Mascot
He is the mascot of the University Of Oregon's Fighting Ducks. Walt Disney made this deal with Leo Harris, the athletic director, in 1947.
14. He Has A Star
Donald was given a star on the Hollywood Walk Of Fame on August 9, 2004. His pals Mickey Mouse and Minnie Mouse also have stars.
Pin this image to save these interesting facts about Donald Duck for later!