If you've ever been to Walt Disney World, you know how huge it is. As fun as those rides could be, it takes time to go from one place to another. We're going to help you with navigating it with this guide to the Disney Skyliner routes.
Since the Skyliner opened for guests at Disney World, transportation has become easier and faster.
The Skyliner is truly a thing of wonder, but not only because it lets you see Disney World while hanging in the air. The Skyliner also has routes with different stations and stops to transport you all around the park.
Before you enjoy the beautiful sights and soar over Disney World, you need to understand the available routes and stations they go to.
We'll tell you all about them in this guide so your next trip can be stress-free and magical. Hop on board and figure out which Skyliner route you need to take for your Magical day in the Disney parks!
What Is the Skyliner at Disney World?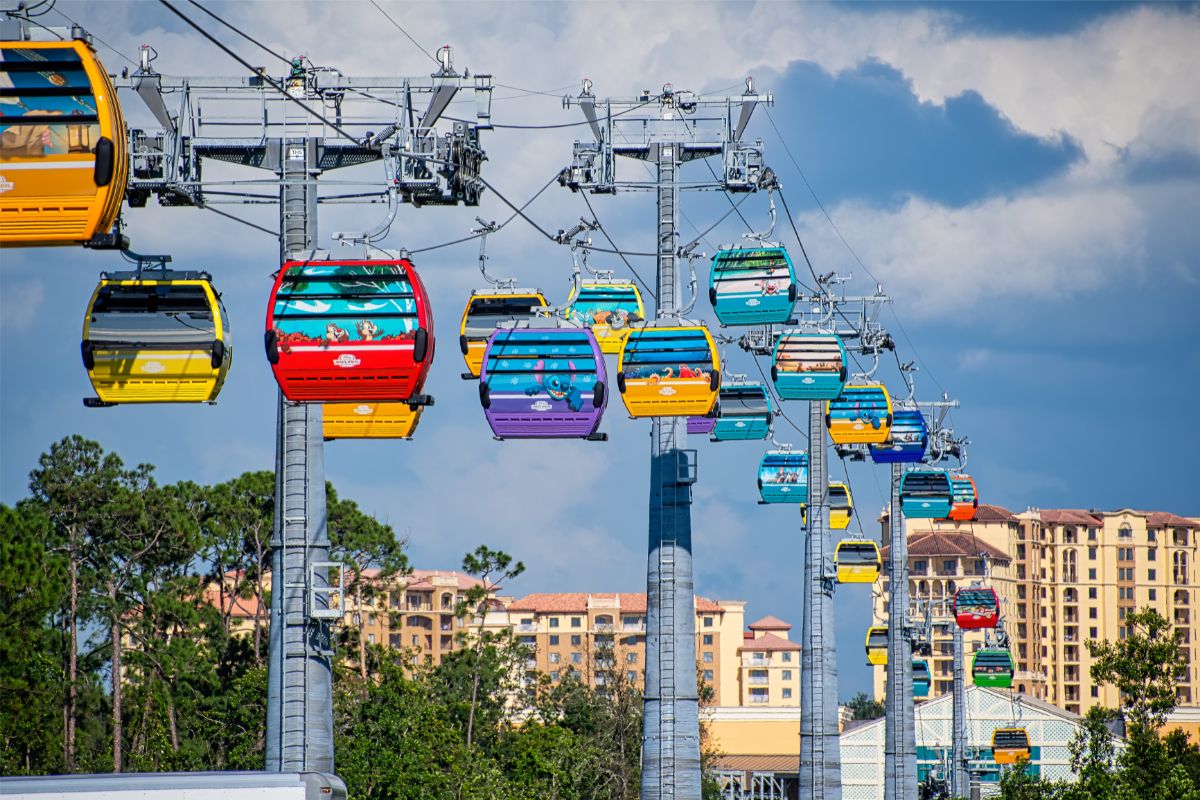 Credit: Photo by depositphotos.com
Disney World's Skyliner is a gondola transport system that transports visitors around the park. This scenic ride gives you a bird's eye view of the entire park and allows you to see it in a new way.
The Skyliner opened on Sep 29, 2019. It was designed as a fun and efficient transport to whisk people away from the hustle of the park, and allow them to enjoy more in less time.
Additionally, rides are 100% free, and you can go on as many as you want. The Skyliner has an unmatched capacity as it transports around 6,000 passengers per hour between the different stations.
This state-of-the-art transport system has five stations that connect two parks and four resorts.
Parks
EPCOT
Disney's Hollywood Studios
Resorts
Disney's Caribbean Beach Resort
Disney's Art of Animation Resort
Disney's Pop Century Resort
Disney's Riviera Resort
Related Content: What Are The Best Disney Resorts For Adults?
Disney Skyliner Map
The Disney Skyliner Map has all five stations and transfers clearly shown on it. You can pick up a copy at any station or view it online.
Make sure to check out the map before reading the next part of this guide; it'll help you get a better sense of the routes and you'll understand better how transferring between them works.
Disney Skyliner Routes And Stations
Now that you've seen the map and know what the stations are, we'll tell you how to transfer between them.
Knowing the routes is important because when you reach the end of a station line, you won't be allowed to stay on the gondola.
Just like the subway, there are stations where you'll have to get off and transfer to another one to reach your destination.
Art of Animation Resort/Pop Century Resort Station
If you take a look at the map, Art of Animation and Pop Century resort station will either be your beginning or end of the line, depending on where you are.
From both stations, you can transfer to Caribbean Beach to EPCOT or Riviera resort. If you're going to Hollywood studios, you can continue right on with no transfers.
Caribbean Beach Resort Station
As mentioned, this is the central hub for all the stations, as it's located exactly in the middle.
From this station, you can go to any of your destinations (the other 4 stations) without transferring.
Disney's Hollywood Studios Station
This is the third station on the map, also located in the middle across from Caribbean Beach Resort. From this station, you can get off at Caribbean Beach Resort to stay there or transfer to any of the other stations.
Riviera Resort Station
This station is located right between EPCOT and Caribbean Beach. From Riviera Resort station you could go directly to EPCOT without any transfers.
If you're going from Caribbean Beach to EPCOT, you don't have to exit your cabin at Riviera Resort. If you're going to Art of Animation/Pop Century station, you'll need to transfer first to Caribbean Beach.
EPCOT Station
The final, or first, stop on the map depending on where you are. If you're arriving at EPCOT, you need to get off the gondola before you can ride again.
From EPCOT you can go directly to Riviera Resort station, or you can stay on the line to go to Caribbean Beach to either stay there or transfer. 
A Sneak Peek Inside the Gondolas
There are approximately 300 gondolas on the Disney Skyliner and each one holds up to 10 guests. The gondolas have vibrant colors and some of them have Disney characters, such as Mickey Mouse, painted on them.
Another interesting fact is that the gondolas have no air conditioning, which people initially thought would make them too hot.
However, they're still designed to resist Florida's summer heat. All the gondolas have window vents that allow air to flow through them and create a nice breeze.
Travel Times Between Stations
The estimated time between stations is 5-15 minutes, depending on where you're going (and from where). 
Here are the estimated times for each of the rides:
From Caribbean Beach Resort to EPCOT: Around 12 minutes
Riviera Resort to EPCOT: Around 10 minutes
Caribbean Beach to Hollywood Studios: Around 5 minutes
Caribbean Beach to Riviera resort: Around 5 minutes
Hours of Operation
The Skyliner opens daily from 10 AM to 8 PM. However, keep in mind that the operating hours are subject to change during special events or other circumstances.
To get the most out of the Disney Skyliner experience, we recommend you check the Disney World Website before you go. This way, you can efficiently plan your trip and not miss out on anything.
Another time-saving tip is to know when to walk. The lines on the Skyliner can sometimes be long. So, if your station is only one stop away, sometimes it might be faster for you to walk.
Conclusion
Exploring Disney World with the Skyliner is sure to be an unforgettable experience. No matter what your destination is at Disney World, there will be a route that the Skyliner can take you through.
It's a unique and fun way to get a new perspective on the parks and resorts.
The best part is that the rides are free, so you can plan your day at the park without worrying about transportation or its cost.
We hope this little tour of Disney's Skyliner was helpful and will help you on your next trip to Disney World.
Pin this image so you can find this post with Disney Skyliner routes later!