Disclosure: Some of the links below are affiliate links. At no cost to you, I will earn a commission if you click through and make a purchase. 
Are you hosting a Bluey birthday party for your little one soon? If so, we have all the Bluey party food ideas you'll need!
Bluey is easily one of the most popular shows for kids right now. All three of my kids can't get enough of it! We just had a Bluey party for one them.
If you're wondering what do you serve for Bluey birthday party food ideas, then you're in the right spot!
In this post I'll show you ideas for Bluey cakes, cookies, snacks, and more!
Are you ready to see these Bluey birthday party ideas? Let's go!
Bluey Party Food Ideas #1 – Bluey And Bingo Cookies
These Bluey cookies are just way too cute!
There's all different shapes of them. There are cookies of the whole Heeler family (Bluey, Bingo, Bandit, and Chilli), some cookies are the number 4, and some are squares.
These are great for themed party food or for Bluey party favors if you get little bags for them.
This is a really cute Bluey themed party food.
Things you'll need:
Related Content: 9 Cute Bluey Cookies Perfect For A Bluey Themed Birthday
2. Bluey And Bingo Biscuits
These Bingo and Bluey biscuits are so cute and creative.
You'll need skewers, food coloring, and fondant to make them.
I recommend blunt point skewers so they aren't sharp for kids.
Things you'll need:
3. Pink Bluey Birthday Cake
Every Bluey birthday party needs a Bluey birthday cake! This Bluey cake for girls is so impressive.
It is light pink with Bluey and Bingo cake toppers, a pink #2, sprinkles, fondant rainbows, and frosting decorations.
You can get similar Bluey cake toppers on Etsy that are perfect party supplies.
Things you'll need:
Related Content: 11 Bluey Birthday Cake Ideas That Are Just Too Cute
4. Bingo And Bluey Puppy Chow
Bluey puppy chow is delicious and fun for little ones to eat. Making it blue will make it more on theme with your Bluey party.
Serve it in blue and orange snack bowls. You can add Bingo and Bluey printables to make them even cuter.
I love simple Bluey party snacks like this!
Things you'll need:
5. Bluey Snackboard
A Bluey snack board is so creative and cool! This one used Bluey cupcake toppers, balloons, candles, party horns, blue ring pops, lollipops, sixlets, and more.
In the picture you'll also see a print out with Keepy Uppy instructions, which is a Bluey balloon game.
Things you'll need:
Related Content: 8 Bluey Cake Pops Perfect For Your Bluey Obsessed Birthday Kid
6. Bluey And Bingo Snack Mix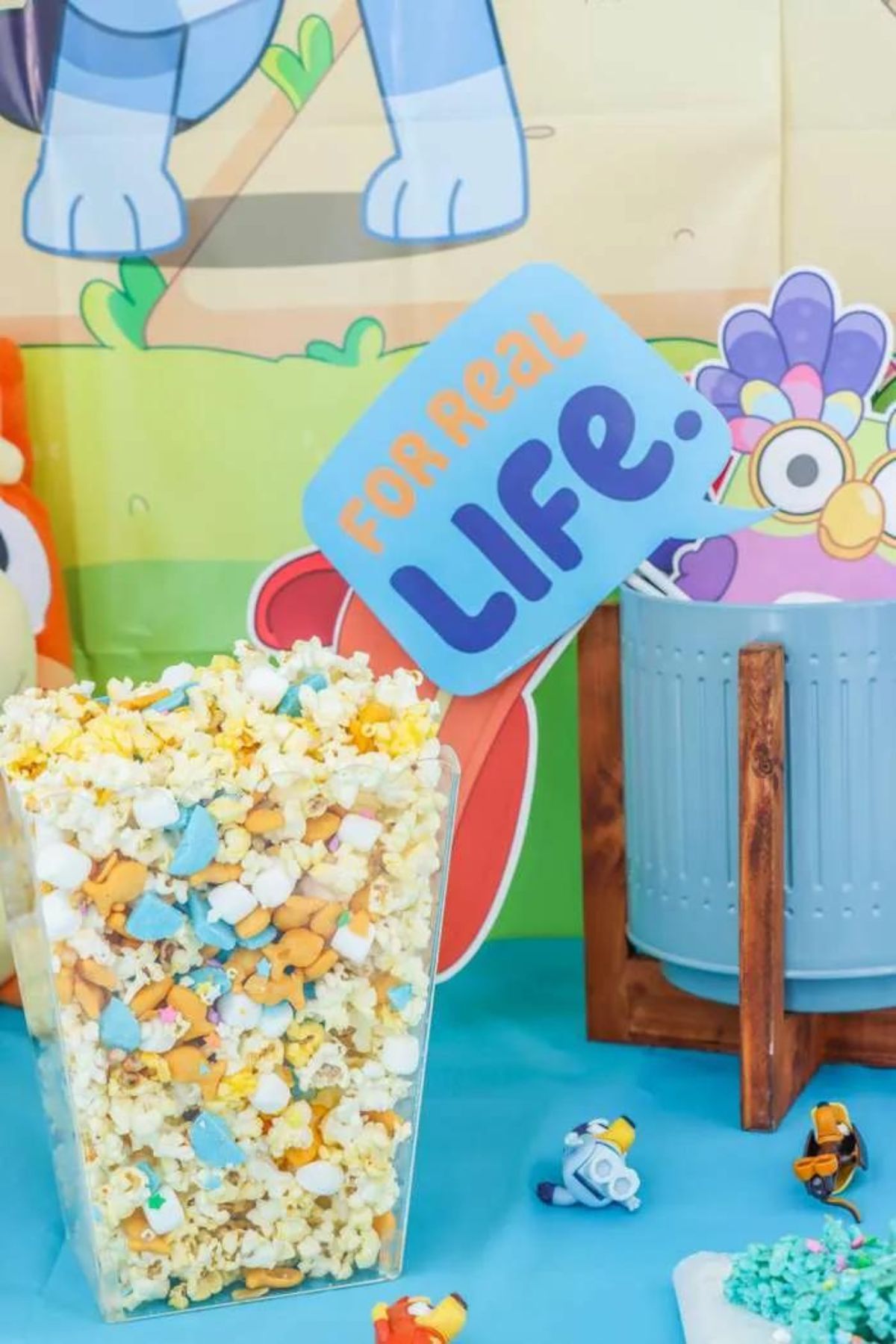 This Bluey popcorn snack mix has popcorn, Goldfish crackers, and blue candy in a square tapered vase.
I love how they used Bluey toys as party decorations for the table.
Things you'll need:
7. Yes/No Button Biscuits
True Bluey fans will love these Yes/No button biscuits!
To make them you'll need red and green fondant.
Remember to have fun pretending to push them and say yes and no just like in the Dance Mode episode!
Things you'll need:
8. Bingo And Bluey Birthday Cake For Girls
This Bluey and Bingo birthday cake is so intricate and amazing!
It's shaped as a number 3 and has tons of decor on it.
It has Bluey cupcake toppers, fondant rainbows, and more on it.
Things you'll need:
9. Striped Bluey Cake
This Bluey cake for boys is so beautiful.
It's a tall cake with striped blue and light blue fondant around it.
It's of course topped with our favorite Blue Heeler dog.
Don't you just love Bluey themed party ideas like this?
Things you'll need:
10. Bluey And Bingo Popcorn
This Bluey and Bingo popcorn is perfect for a Bluey birthday party or for a Bluey watch party at home.
You'll need popcorn, bones sprinkles, blue candy melts, and orange candy melts to make this Bluey themed party food.
Easy Bluey party ideas like this are the best.
Things you'll need:
Conclusion
I hope you found some Bluey themed birthday party food that you can serve your family and friends!
Tag us on Instagram if you make any so we can see how your Bluey birthday food ideas turned out.
Pin this image to save this post for later!
As an Amazon Associate I earn from qualifying purchases.