Disclosure: Some of the links below are affiliate links. At no cost to you, I will earn a commission if you click through and make a purchase.
If you're wondering what to wear on a Disney Cruise, then you're going to love these cute Disney Cruise outfit ideas for women.
Disney Cruises are obviously the best cruises around for us Disney fans. They're extra magical and just so fun. I've been on several different cruise lines, but Disney Cruise Line is still my favorite and always will be.
Disney Cruise Line currently has 5 ships in its fleet. They are the Disney Wish, Disney Fantasy, Disney Dream, Disney Magic, and Disney Wonder. The Disney Treasure will set sail soon.
In this post we've got you covered for whatever kind of Disney Cruise outfit you're looking for. This post has outfits for Disney Cruise theme nights like Pirate night, formal dining outfits, and casual outfits you can wear around the ship and in the pool area.
You can read the Disney Cruise dress code here if you haven't yet and still need to. Swimwear and tank tops are not permitted in the dinner dining rooms.
Disney Cruise Outfit Ideas #1 – Mommy And Me Disney Cruise Outfits
Mommy and me outfits are so fun if you're going to be cruising with your son or daughter.
I love the nautical theme of these outfits. They're obviously Disney themed and cruise themed. You can't go wrong with that.
The mom is wearing red and black Minnie Mouse ears with anchors on them, a Minnie Mouse cruise shirt, black and white polka dot pants, and sandals.
Shop this look:
Related Content: 11 Items You Need On Your Disney Cruise Packing List
2. Disney Formal Night Outfit
This is a really pretty outfit to wear on a formal night or semi-formal night. This can be your Disney Cruise dinner attire for any night on your cruise though.
She is wearing a light blue flowy dress, rose gold Minnie Mouse ears, and white ankle boots.
Shop this look:
3. Little Mermaid Outfit
A Little Mermaid outfit is perfect for a cruise and even better, a sea day! This outfit is comfortable and great for hot weather, which you'll definitely experience if your cruising the Caribbean.
She is wearing a Little Mermaid tee, black and white striped shorts, and gold and white sandals.
Shop this look:
4. Minnie Mouse Outfit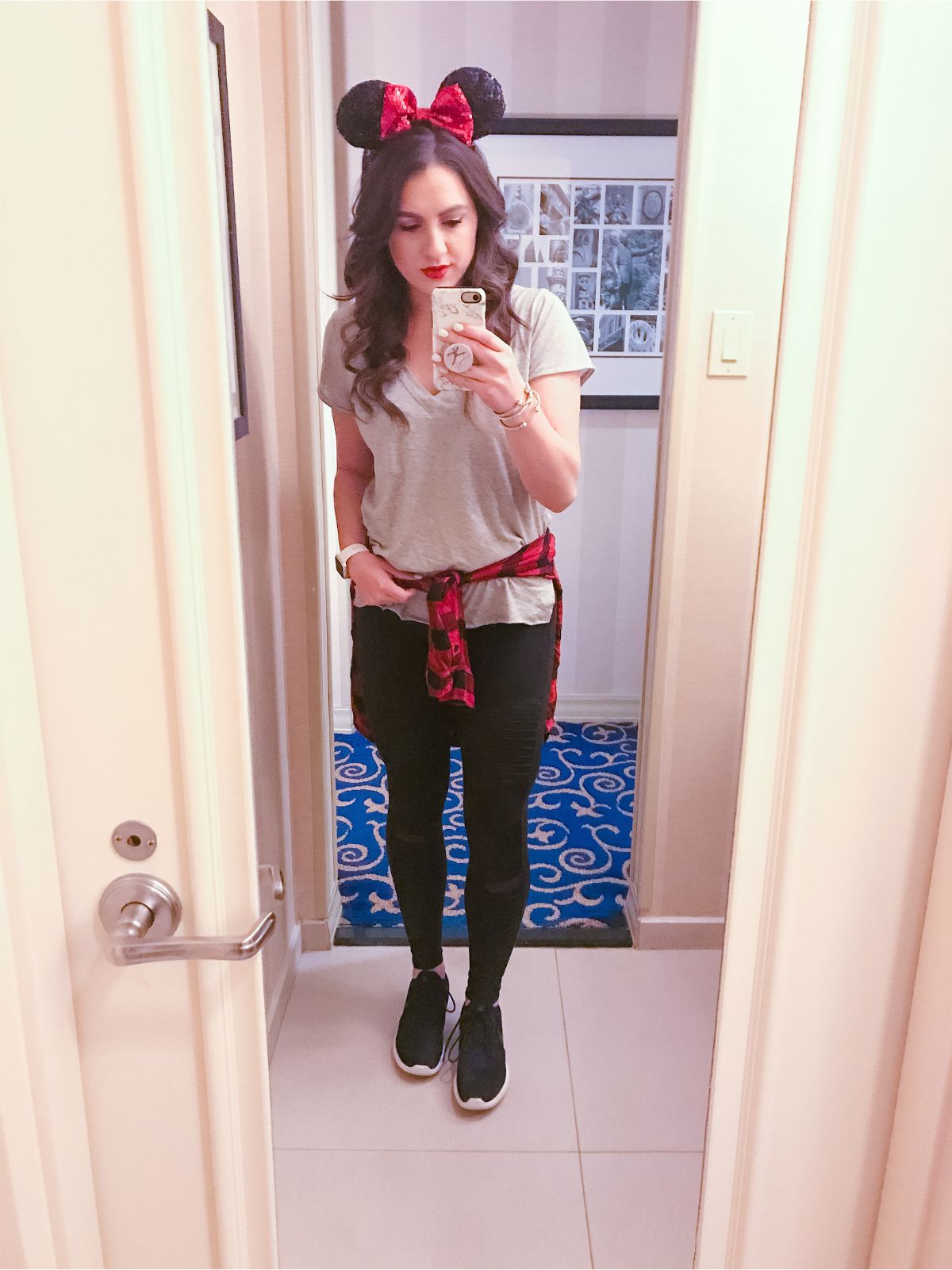 This is a great outfit for a day where you'll spend time exploring your cruise ship and want to be comfortable, but still wear a Disney outfit.
She is wearing a tan v-neck, black and red Minnie Mouse ears, a black and red plaid shirt tied around her waist, black leggings, and black tennis shoes.
This would also be a really cute outfit for Disneyland or Walt Disney World.
Shop this look:
5. Nautical Outfit
This nautical outfit is so cute and an absolute perfect look for a cruise!
She is wearing a white and navy skirt set.
Shop this look:
6. Vintage Minnie Inspired Outfit
I love this outfit that is inspired by how Minnie Mouse used to look. The colors are so fun and great for a Disney cruise.
She is wearing a blue dress that has polka dots and Minnie Mouse all over it. She also has on a red hat, red heart sunglasses, and red shoes with bows on them.
You could wear this to dinner any night, but I think it's really fun for a Disney Cruise formal night outfit.
Shop this look:
7. Pirate Night Outfit
Most Disney cruises have a pirate night. It's always my favorite night on the cruises I've been on! You'll have a pirate themed dinner, then a deck party and show called Pirates In The Caribbean.
Some people like to dress up for their Disney Cruise Pirate Night and some don't. You won't feel out of place either way.
This outfit is a white and black striped dress and tan heels. Her kids are dressed up in pirate attire too, which makes it extra fun!
Wouldn't it be so cool to dress up with your whole family in Disney Cruise pirate night outfits!
Shop this look:
8. Casual Cruise Outfit
I love this cruise casual outfit for walking around the deck and soaking in some sun. You could also wear it over your bathing suit to go to Castaway Cay and see Mickey Mouse.
She is wearing a white sleeveless button down dress and brown sandals.
Shop this look:
Disney Cruise Outfit Ideas FAQ
Do you have to dress up for dinner on Disney Cruise?
No, you do not have to dress up for dinner on a Disney Cruise, but you cannot wear swimwear or tank tops. Shorts and t-shirts are allowed though.
What to wear on Disney Cruise formal night?
For formal night aka dress-up night, the typical attire is a jacket for men and a pantsuit or dress for women.
Does Disney Cruise have formal night?
Most Disney cruises do have an optional formal night. Your itinerary should tell you if you do and how many you have. You can always contact Disney Cruise Line if you cannot find that information though.
Conclusion
I hope you loved these Disney Cruise outfits! Disney cruises are super fun and planning outfits for them is really exciting.
You can plan outfits for swimming, formal nights, dinners, and hanging out on the deck.
P.S I'd love to meet you on Instagram: here
Pin this image so you can find this post later!
As an Amazon Associate I earn from qualifying purchases.